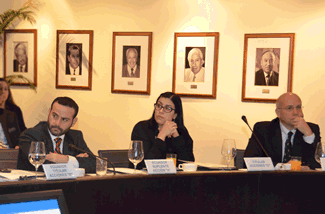 CAF provides financing for Quito Metro construction
November 27, 2012
The subway project --a safe, affordable and environmentally sustainable undertaking--, will become the axis of Quito's Integrated Mass Transit System.
The subway line will have 15 stations and will carry a projected 378,000 daily passengers at the start of operations in 2016.
(Caracas, Nov. 27, 2012).- CAF –development bank of Latin America– has approved a $250 million loan to Ecuador to finance the Quito Metro, an emblematic project undertaken by the Municipality of Quito. Thesubway project , which will be executed by Empresa Pública Metropolitana Metro de Quito (EPMMQ), will allow commuters to travel from the city's north end to the south end in little more than half an hour.
"The project is particularly important for CAF due to the institution's commitment to initiatives, aimed at improving the quality of life of the urban populations in Latin America, such providing public transportation services primarily for low-income people," said Enrique García, President of the Latin American multilateral lender.
In Project First Line of the Quito Metro, a 22-kilometer (13mile) tunnel will connect the Quitumbe bus terminal (south of town) to the Mariscal Sucre Airport in Labrador (north of town), with 15 stations along the line. Its passenger traffic is estimated to be 378,000 per day at the start of operations in 2016. The 18 trains, with six cars each, will complete travel between both ends in about 35 minutes, at an average speed of 37.5 kph (approximately 23 mph).
The project's total cost is $1.677 billion, with $700 million provided by multilateral lending agencies, including CAF with $250 million (14.9% of total project cost). Local counterparts will cover the remainder.
The Quito Metro will have a high socio-economic impact, with improved mobility in the city by cutting down commuting time, reducing vehicle operating costs and fuel savings, reducing pollution and promoting civic culture thanks to high quality public services.
The loan will finance project costs, including civil works, facilities, inspection, environmental and social costs, and contingencies.