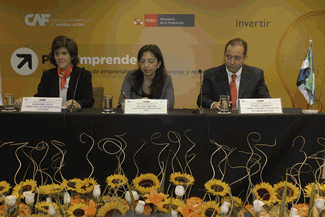 CAF supports entrepreneurship in Peru
November 13, 2012
CAF, Peruvian Production Ministry and Instituto Invertir gathered international experts to analyze, promote and develop innovation, describing the experience of other countries in the region.
Production Minister Gladys Triveño gave inaugural speech; CAF Director Representative in Peru Eleonora Silva spoke on behalf of the institution.
(Lima, Nov. 13, 2012).- CAF –development bank of Latin America– in partnership with the Peruvian Ministry of Production and Instituto Invertir invited national and international experts to the International Forum
Perú Emprende: Public Policies of Entrepreneurship, Experiences and Challenges
to discuss, develop and promote a policy of entrepreneurship and business innovation in Peru, which takes into account successful experiences in other countries.
The forum is part of a series of events in Latin America with the goal of fostering entrepreneurship throughout the region.
In her opening speech, Peruvian Production Minister Gladys Triveño said Peru will prioritize dynamic, high-impact entrepreneurial initiatives, saying the government will offer a program to support projects that seek internationalization and innovation.
In this regard, Ms. Triveño said the government will offer 50 million sols (approximately $19.4 million) in seed capital to develop dynamic, high-impact enterprises in Peru, which prioritize the international market. "We will put a lot of effort into these ventures, with this program that will fund initiatives with seed capital for up to $60,000 for each type of project," she said.
For her part, CAF Coujntry Representative in Peru Eleonora Silva said the institution supports initiatives that result in higher productivity and competitiveness through an agenda that complements financing and an exchange of experiences with technical assistance. She said CAF promotes in its shareholder nations a comprehensive vision of development that seeks to combine macroeconomic stability, microeconomic balance, social equity and environmental sustainability.
CAF supports several activities and projects in the region in this field, Ms. Silva said, from business incubators and accelerators, lectures and entrepreneurship and innovation competitions, to investments in capital funds that provide financial resources to innovative enterprises in their different stages.
"CAF has a regional strategy of supporting entrepreneurship and innovation in every stage through the introduction of international best practices that contribute to the generation of a constructive dialogue between public and private actors, for the design and development of public policies that promote entrepreneurship, innovation and business development in general," she added.
She also stressed that the promotion of entrepreneurship and innovation are a source of job creation and income generation, thus helping strengthen the productive base of the country, hence fostering its economic and social development.
"We believe this activity will strengthen the dialogue between the different actors in order to define an agenda for promoting entrepreneurship and business innovation in the country," she said.
The international seminar included an analysis of the current state of entrepreneurship in Peru, and an overview of experiences of other Latin American countries, as well as a presentation of work done by CAF in to fooster entrepreneurship in various countries of the region.
Keynote speakers included Angélica Matsuda, executive director of the National Competitiveness Council ofPeru; Clementina Giraldo, executive at CAF's Public Policy and Competitiveness Division; Alberto de Palacio, from NAFIN of Mexico; Gonzalo Rivas, former executive vice president of CORFO of Chile and former head of the Science and Technology Division at the IDB; and Alejandro Minatta, from Red Emprender of Uruguay.