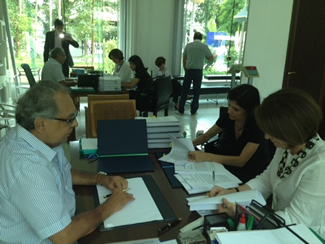 CAF suppots tourism development in Manaus
November 15, 2012
CAF's Country Representative in Brazil and the Mayor of Manaus sign a $21.6 million loan for the National Tourism Program.
The Program seeks to improve the population's quality of life boosting tourism, creating new employment opportunities and adding value to tourism products.
(Manaus, Nov. 15, 2012).- CAF's Country Representative in Brazil Moira Paz-Estenssoro and Manaus Mayor Amazonino Mendes signed a $21.6 million loan agreement to partially finance the National Tourism Program for the Municipality of Manaus, executed by the Municipal Infrastructure Department (SEMINF).
The total program cost is estimated at $43 million, 49.8% of which will be financed with the CAF loan and 50.2% with local contributions of the Prefecture of Manaus. The initiative specifically includes tourism product strategy, marketing, institution building, infrastructure and basic services, as well as environmental management.
The city of Manaus is one of 12 venues for the 2014 World Cup and one of the venues of the 2013 Confederations Cup. As such, it implements actions to ensure the success of such important events of international significance.
Ms. Paz-Estenssoro stressed the importance of urban centers as engines for development in Latin America and said the contribution of CAF –development bank of Latin America– for cities in the region is based on a "comprehensive agenda that promotes the development of coordinated investment programs, that address social, economic, productive, environmental and cultural issues."
"The program […] seeks to improve the quality of life of the population, based on the premise that the tourism activity momentum generates new income and employment opportunities and adds value to the tourism products offered," Ms. Paz-Estenssoro said.
The planned investments contemplate the restoration of sites of interest for visitors, with the goal of promoting, strengthening and improving the competitiveness of destinations, modalities and specific types of tourism in Manaus.
Tourism is expected to become one of the major contributors to the municipality of Manaus. Improvements in tourism products and services are aimed at extending visitors' stay in the cit,y as well as elsewhere in the State of Amazonas.