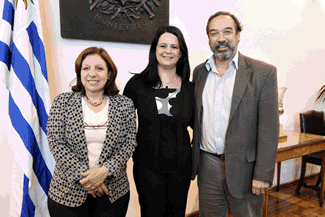 CAF tenders offer to city of Montevideo for former Central Market
November 16, 2012
The Latin American development bank made a public tender for the property to convert it into its new headquarters in Uruguay.
(Montevideo, Nov. 16, 2012).- CAF –development bank of Latin America– made an offer to the City of Montevideo for the former Central Market, in accordance with a public tender for the property that was declared void in 2008. The filing will be examined by the Municipality of Montevideo, which in turn will refer it to the Departmental Board and then to the Court of Auditors. If approved by all parties, CAF would be granted the concession for 30 years and would undertake the construction work for its new headquarters in Uruguay.
"With this filing we have taken another step to strengthen our presence in the country, while simultaneously helping the city restore an emblematic space for the public," said CAF Country Representative in Uruguay Gladis Genua.
Montevideo Mayor Ana Olivera participated at the event, held at City Hall.
"CAF has been working with us on our top goals from the moment it came here," Ms. Olivera said, describing these objectives as key to enhance the quality of life in the city. She mentioned the Casavalle project, first-prize winner of CAF's First International Competition for Urban and Social Development Projects in Informal Settlements last year. Ms. Olivera pointed out that CAF is also involved with the Carnival Museum and carnival in the neighborhoods. "There is really a vocation to get involved with the most important needs we have."
At the close of the event, Olivera expressed her hope to see "the inauguration of CAF's headquarters […] in an area that, at that point, will be completely transformed. "
CAF organized a national competition of architectural proposals for its headquarters in the former Central Market. Architects Carlos Labat, Pierino Porta and Nicolás Scioscia presented the winning project, out of the 64 competing proposals in this contest, sponsored by the City of Montevideo and the Uruguay Society of Architects.
The winning project for CAF's headquarters seeks to create a building integrated into the urban landscape in a sustainable manner, betting on urban and environmental quality as well as functional and economic efficiency. It includes the renovation of the Fun Fun Bar, a cultural movie theater complex, an auditorium, an art gallery, a library, dining spaces and an enclosed park. It also features an underground parking with over 300 spots. Public areas, which will be made available to the City once completed, will cover almost 65,000 square feet, with CAF offices covering an area of about 130,000 square feet. CAF's total investment is estimated at around $24 million.