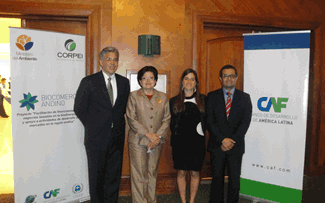 CAF workshop focuses on financing sustainable development and biodiversity
November 28, 2012
The event, organized by CAF, Biocomercio Andino, Ecuador's Environment Ministry and Exports and Investments Promotion Corporation CORPEI-CAPITAL sought to promote the importance of sustainable development and businesses focused on biodiversity in financial institutions' agenda.
(Quito, November 2012).- CAF –development bank of Latin America– recently organized a workshop entitled "New alternatives for sustainable development financing in Ecuador and the region: a market-oriented approach."
During the event, Constanza Calderón, CAF country representative in Ecuador, mentioned the importance of adding environmental initiatives to current banking projects. She noted that sustainable development is one of the goals CAF pursues as part of its institutional mission and that the bank has a strong environmental and social commitment.
CAF Environment Division coordinator José Montoya highlighted the institution's support for environmental and social development. "We have an environmental and social operations management system at CAF, which is an integral part of the credit process fromthe start," he said. "Thus, the environmental division is constantly taking part in every instance of decision-making, as well as providing tools and criteria to guarantee the environmental and social viability of loan agreements."
Mr. Montoya urged the institutions that took part in the workshop to approach CAF and request support for training and orientation in future initiatives on social responsibility or environmental risk management, through the Strategic Institutional Program of Environmental and Social Management for Financial Institutions.
International consultant Jessica Jacobs, an expert on financial institutions' environmental and social risks, discussed specific examples of environmental risks reduction in credit operations. The initial work should be carried out within each institution, she said, adding that the operational cost is relatively low and the benefits can be enormous in terms of institutional image.
During the workshop's second part, Gustavo Manrique, president of Soluciones Ambientales Totales Sambito; Jaime Cárdenas, regional coordinator of GEF-PNUMA_CAF Project's regional coordinator; Teddy Escarabay, biodiversity technician at Ecuador's Environment Ministry; Luis Montoya, from Exports and Investments Promotion Corporation CORPEI-CAPITAL; Freddy Cabello, from Ecuador's Cocoa Producing Farmers National Union; and Verónica Muñoz, from Rainforest Alliance, presented case studies about their own experiences on the supply and demand of services, as well as financing for sustainable development and opportunities for new biocommerce businesses in the region.
In his concluding remarks, CAF environment executive Mauricio Velásquez said it was necessary to continue developing the Strategic Institutional Program of Environmental and Social Management for Financial Institutions, in order to train regional financial institutions' staff in sustainability practices.