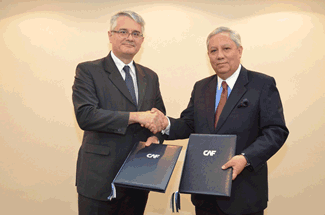 French resources to boots development in the region
November 20, 2012
CAF and the French Development Agency sign technical cooperation agreement for projects in Latin America and the Caribbean.
(Caracas, Nov. 20, 2012).- CAF –development bank of Latin America– and the French Development Agency (AFD) have signed a strategic cooperation agreement, with the goal of funding technical studies for project identification, feasibility and impact in Latin America and the Caribbean.
The agreement was signed at CAF's headquarters by CAF Finance Vice President Hugo Sarmiento and AFD Latin America and Caribbean Director Phillipe Orliange, and is part of a partnership that both institutions reached in 2009.
"We are the development bank of Latin America and, in that regard, we honor our responsibility to play a catalytic role in the approach to other regions, as well as being an important generator of knowledge on development issues with the aim of raising the international profile of Latin America," Sarmiento said after the signing ceremony.
Orliange said he was "happy for that extra step in strengthening the relationship" between both institutions. "We are strategic partners in the region and within the International Development Finance Club (IDFC), we will keep moving forward together."
This agreement is part of the AFD-CAF joint program to support projects that have a positive social and environmental impact, particularly in the urban transportation, energy, water and sanitation sectors.