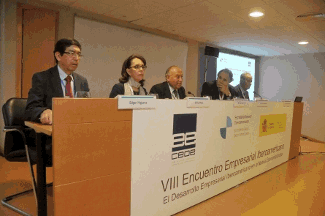 Infrastructure investment in Latin America: an opportunity for Spanish, Portuguese companies
(Cadiz, Nov. 17, 2012).- CAF President Enrique García encouraged Spanish and Portuguese companies to get involved in Latin American infrastructure development projects, taking advantage of their know-how and experience in an area that is currently critical to Latin America's comprehensive development.
García explained the kind of investment that would help Latin America reach higher, consistent, inclusive and environmentally sustainable growth: investing in education, infrastructure, logistics and innovation for a productive transformation that leads to a transition from a comparative advantages model to competitive advantages one.
In terms of infrastructure, "the region is investing 3 percent of its GDP, when it should be investing more than 5 percent," he said.
He also highlighted the importance of promoting public-private participation in project financing, the need to diversify funding sources and the catalytic role CAF –development bank of Latin America– plays, drawing resources from other sources and areas for development in Latin America.
"At this juncture of international financial crisis, Latin America may be part of the solution," García added, highlighting the opportunity represented by investment projects in the region, particularly for Spanish and Portuguese companies.
"The transfer of knowledge and experience to Latin America can be an opportunity for businesses in the Iberian Peninsula and an important contribution to Latin American development," he concluded.
At the summit, CAF also presented its annual survey entitled "The Infrastructure for Latin America's Comprehensive Development" ( IDeAL 2012). Since its first edition, this report, the fruit of research and a source of knowledge generation, highlights the key role infrastructure development plays in Latin Americans' welfare and progress. It also offers a strategic assessment of the sector in the region.
IDeAL 2012 proposes infrastructure development guidelines for inclusive, competitive and sustainable cities. It also points to infrastructure as a vehicle to improve international penetration by regional economies in food markets. Additionally, it proposes an infrastructure development agenda in the quest for greater competitiveness in high-potential markets for the region.