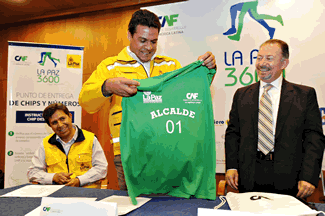 La Paz 3600 10K Race to Award $10,500 in Prizes; Competition Features Timing Chips, Innovations
November 07, 2012
The Nov. 11 race will award cash prizes; overall winners will automaticallyqualify for the 2013 CAF Caracas Marathon.
This is the first major road race in Bolivia in which participants will use timing chips. Pacers will set the pace for elite runners.
(La Paz, Nov. 7, 2012).- The fourth edition of the La Paz 3600 10K road race, organized by CAF –development bank of Latin America– and the Autonomous Municipal Government of La Paz (GAMLP) will award a total of $9,500 in prizes to the overall winners and athletes who take the top spots in their respective categories, plus $1,000 for the most enthusiastic cheerleading bands.
The sporting event will be held on Sunday, Nov. 11 and all participants will receive a timing chip to clock the exact time they take to cover the 10 kilometers, making it the first mass race in Bolivia with electronic timing.
The first three runners in each of four categories will receive prizes for $200, $100 and $50 respectively, and the overall winners for men and women will represent Bolivia in the 2013 CAF Caracas Marathon, to be held on February 24 in Venezuela with all expenses paid.
The categories of La Paz 3600 10K are: A (ages 15-19), B (ages 20-40), C (age 40 and up) and D (special abilities runners – in wheelchairs). A draw for four La Paz-Santa Cruz round-trip airline tickets will be held among the top runners who reach the podium.
Competitors in wheelchairs will cover a distance of 5.2 kilometers (3.2 miles), with their finish line at Plaza España.
Additionally, the first 5,000 competitors to pick up the runners' kit, with their bib number and the electronic chip, will receive the official running shirt before the race. The delivery of the kit will be made on 9 and 10 November between 9:00 AM and 5:00 PM in the basement of Camacho market.
On the race day, the first 3,600 athletes who cross the finish line will receive commemorative medals.
Innovations
In addition to the timing chip for all runners, elite athletes this year will have a special tent and an exclusive starting line.
Furthermore, the race will have pacers, in charge of setting the pace for runners who have a stated time goal, predetermined at 50, 55, 60, 65 and 70 minutes.
The route
The race will start at Plaza Villarroel (Miraflores), it will continue on Av. Busch all the way up to Plaza del Estadio Hernando Siles and then Av. Simón Bolívar, Juan de la Riva, Mercado, Ayacucho, Av. 16 de julio (El Prado), Plaza del Estudiante, Av. 6 de agosto, Aspiazu, Av. Ecuador, Plaza España, Presbítero Medina, calle Ascarrunz, Av. Sánchez Lima, Plaza Abaroa, Pedro Salazar, Plaza Isabel la Católica, Puente de Las Américas, Plaza Triangular, Litoral, Villalobos, Av. René Zabaleta and Puentes Trillizos (Independencia, Unión y Libertad), where the competition will end.
Registration
Participants can register free of charge upon presentation of a birth certificate photocopy or original ID.
Runners can sign up at any of the following agencies:
CAF Offices. Av. Arce esq. Clavijo Nº 2915 (San Jorge).
Dirección Municipal de Deportes. Edificio Técnico Municipal, piso 11 (Av. Mariscal Santa Cruz esq. calle Colombia, teléfono 2315012).
Subalcaldía Max Paredes. Calle Max Paredes casi esquina Av. Buenos Aires.
Subalcaldía Sur. Calle 12 de Obrajes sobre la plaza Cueto Vidaurre.
The sponsoring companies are Grupo Financiero BISA; Coca Cola; AGB; Tigo; Princesa; Hotel Casa Grande; Imagenbol; Amaszonas; Droguería Inti; Extend Comunicaciones; Bolsa, Banca y Comercio; El Monocromático; Graftec; La Cuisine and Spazio.
For more information please visit www.lapaz3600-10k.com or @lapaz3600_10K on Twitter and Carrera 3600 La Paz on Facebook.