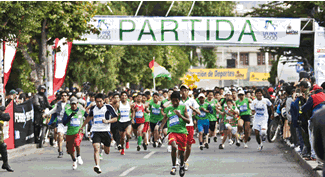 Mery Quispe, Eduardo Aruquipa Carry 4th Edition of La Paz 3600 Race
November 11, 2012
Streets and avenues were covered in green with thousands of athletes who took part in this sports challenge.
At every mile in the race, sambas, cheerleaders and other activities kept runners' spirits up to make it to the finish line.
(La Paz, Nov. 11, 2012).- When the stopwatch clocked 32 minutes, 49 seconds at this sports feast, athlete Eduardo Aruquipa was crossing the finish line, becoming the overall winner of the fourth edition of the La Paz 3.600 10K road race organized by CAF –development bank of Latin America– and the Autonomous Municipal Government of La Paz. Mery Quispe took the title in the women category, completing the 10 kilometers (6 miles) in 40 minutes, 1 second. Both athletes will represent Bolivia for a second time in the CAF-Caracas Marathon 2013.
The first three places in each of the six categories were awarded $200, $100 and $50 prizes. CAF representative in Bolivia Emilio Uquillas highlighted the discipline and enthusiasm of the 8,700 athletes, who joined what became a true party for integration and friendship.
Each mile in the race was a stage for initiatives by the sponsoring companies, including batucada style sambas, student cheerleaders, music and other activities to cheer the runners, keeping their spirits up and pushing them to finish the competition.
The race began at 8:00 AM at Villarroel Square, the gathering point for children, youth and adults, professional, as well as amateur, athletes sporting the official T-shirt, which was green this year. During the race, the athletes were supported with water stations and first aid assistance provided by the Red Cross. The first 3,600 runners to finish the race were awarded a medal, whereas another 4,000 got a snack as acknowledgment for their effort.
Children and young athletes also took part in the Special Olympics, displaying sports skills, enthusiasm and perseverance in their remarkable performance.
After the prize award ceremony, Uquillas had words of gratitude for the valuable support by the Autonomous Municipal Government of La Paz, the Municipal Sports Department and the Bolivian Police and Red Cross for their cooperation. He also acknowledged the generous support by the private sector, without which this effort would not have been possible and encouraged private companies to carry out more events like this one to promote healthy recreation and take advantage of the country's athletic potential. "I thank benefactors Grupo Financiero Bisa, Coca Cola and AGB-Bolivia; sponsors Tigo, Princesa, Casa Grande Hoteles, Imagenbol, Amaszonas and Inti; and the companies that supported the race including Extend, Bolsa Banca y Comercio, Graftec, La Cuisine, El Monocromático and Spazio," Uquillas said.
Race Results
Distance: 10 kilometers (6 miles) Overall winners
Eduardo Aruquipa (32 minutes, 49 seconds)
Mery Quispe (40 minutes, 01 second)
Category A Seniors, 40 years and older (men)
1st. Eduardo Quispe Choquehuanca (35 minutes, 40 seconds)
2nd. Constancio Velasco Jahuira (36 minutes, 00 seconds)
3rd. Juan Vargas Tarqui (36 minutes, 06 seconds)
Category A Seniors, 40 years and older (women)
1st. Viviana Choquehuanca Mamani (43 minutes, 04 seconds)
2do. Tania Taboada (47 minutes, 53 seconds)
3er. Tania Urquieta de Fernández (51 minutes, 50 seconds)
Category B Adults, 20-40 years old (men)
1st. Eduardo Aruquipa (32 minutes, 49 seconds)
2nd. Reynaldo Huanca Claros (32 minutes, 59 seconds)
3rd. Rolando Pillco Rojas (33 minutes, 13 seconds)
Category B Adults, 20-40 years old (women)
1st. Mery Quispe (40 minutes, 01 second)
2nd. Sonia Calisaya (40 minutes, 28 seconds)
3er. Paola Quispe Mamani (40 minutes, 37 seconds)
Category C Youth, under 20 (men)
1st. Javier Laura Cuiza (34 minutes, 44 seconds)
2nd. Christian Mora Humerez (35 minutes, 03 seconds)
3rd. Ruddy Callisaya Camargo (36 minutes, 44 seconds)
Categoría C Youth, under 20 (women)
1st. Jhovana Vera Cáceres (40 minutes, 59 seconds)
2nd. Deysi Cabrera Flores (45 minutes, 15 seconds)
3rd. Albertina Callisaya Camargo (45 minutes, 53 seconds)
Distance: 5,2 kilometers (3.2 miles)
Category D, Integrated Sports - Special Skills (men)
1st. Yeonil Calle Mamani (20 minutes, 57 seconds)
2nd. Bernabé Cruz Salas (21 minutes, 58 seconds)
3rd. Félix Chávez (22 minutes, 63 seconds)
Category D, Integrated Sports - Special Skills (women)
1st. Victoria Flores (42 minutes, 25 seconds)
2nd. Martha Mamani (43 minutes, 26 seconds)
3rd. Elizabeth Machaca (1 hour, 03 minutes, 07 seconds)