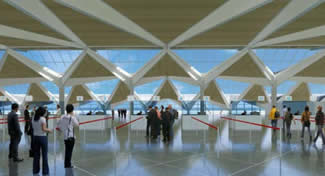 Resources for Bogotá airport Expansion
November 21, 2012
CAF signs a loan agreement with OPAIN to complete modernization of Bogotá's El Dorado Luis Carlos Galán International Airport.
IDB and the China Development Bank join CAF in this unprecedented financing operation.
(Bogotá, Nov. 21, 2012) - Sociedad Concesionaria Operadora Aeroportuaria Internacional OPAIN SA has signed a loan agreement for $390 million with three international development institutions to finance the $1.2 billion expansion and operation of Bogotá's El Dorado Luis Carlos Galán International Airport, in one of the biggest infrastructure projects of the region.
In this unprecedented operation, senior lenders CAF –development bank of Latin America, – the Inter-American Development Bank (IDB) and China Development Bank (CDB) came together to support Colombia's most important airport project, the first time the three institutions join efforts in an endeavor of this nature.
CAF President Enrique García highlighted the financial institution's catalytic role as a driver of Latin America's relations with Asia, Europe and North America, through agreements with major financial and development institutions in these regions, which has enabled it to attract new resources to finance projects in Latin America.
As the main international gateway to Colombia, El Dorado Luis Carlos Galán International Airport handles more cargo than any other in Latin America and is the region's third busiest airport in passenger traffic. El Dorado's main passenger terminal was built in 1959. In 2006, Colombia's civil aviation regulator, the Special Administrative Unit of Civil Aeronautics (Aerocivil), awarded OPAIN SA the concession to modernize the terminal and add new cargo facilities.