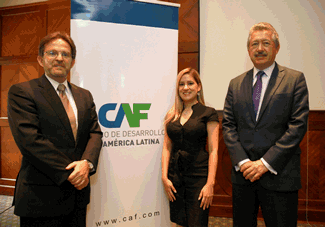 Support for institutional strengthening of Ecuadorian companies
November 28, 2012
Corporate governance best practices, case studies are discussed at workshop organized by CAF.
(Quito, November 2012).- CAF -development bank of Latin America- organized a workshop entitled Boosting Public Enterprises' Competitiveness and Efficiency, with the participation of public and private companies that obtained positive results through the implementation of corporate governance best practices.
In his opening remarks, CAF country representative in Ecuador Hermann Krützfeldt said the financial institution has been promoting corporate governance programs for more than 10 years. Krützfeldt said CAF's mission is to promote sustainable development and regional integration, following which he explained the Public Enterprises program in the region, which is being implemented in more than 20 state-owned companies in Bolivia, Colombia, Ecuador and Peru.
CAF Public Policy and Competitiveness executive Rebeca Vidal presented the results of studies carried out by the institution on the issue of corporate governance in the region. She noted that CAF has worked with nine state-owned enterprises in Ecuador, confirming that corporate governance best practices are applicable to any organization, regardless of political orientation.
"Corporate governance best practices are a financing source access and diversification tool," Vidal said. "We can say today that many of the companies we have worked with have been able to diversify in large measure their funding sources and have generated more trust from stakeholders."
The event was attended by Quito Stock Exchange Board Chairman Patricio Peña, who discussed his experience in governance issues in the financial sector.
During the second part of the workshop, participants presented case studies based on their own experience in implementing corporate governance best practices in their companies. Speakers included Seguros Rocafuerte CEO Sebastián Romero; Empresa Municipal de Aseo de Cuenca Manager Valeria Villavicencio; Empresa de Desarrollo de Cuenca Manager Trajano Bermeo; and Ferrocarriles del Ecuador Manager Jorge Carrera. They emphasized the importance of learning how to manage strategic information, having clearly defined roles within each organization and building up trust within both company personnel and the general public. In the words of Sebastián Romero, "No company can be successful and competitive if the public distrusts its businesses."