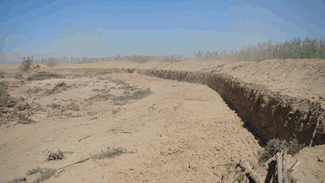 Villamontes: first Bolivian municipality with a plan for climate change adaptation
November 22, 2012
A methodology to develop climate change adaptation plans for Bolivian municipalities is a highlight of the project, supported by CAF through non-reimbursable cooperation.
This initiative's success allows other municipalities to replicate actions and create their own plans.
(La Paz, Nov. 22, 2012).- The completion of a project entitled "Connecting our biodiversity to tackle climate change in the South American Greater Chaco," developed in the Bolivian municipality of Villamontes, was announced at a workshop recently held in La Paz. The project was supported by CAF –development bank of Latin American– and executed by NGO NATIVA - Naturaleza, Tierra y Vida, in coordination with the Municipal Government of Villamontes, the AVINA Foundation and IUCN – The Netherlands.
One of the project's highlights is SICCLIMA, a methodology that enables the development of Climate Change Adaptation Municipal Plans and can be used by any municipality in Bolivia. In this specific case, the project was carried out at Villamontes, in the Tarija department, making it the first city in the country to have a plan for adapting to climate change.
CAF Country Representative in Bolivia Emilio Uquillas said the project responded to the demands of the communities in the area, particularly aboriginal ones like the Wenayek and the Guarani, particularly related to the use and conservation of biodiversity in the Chaco region, which required planning to address climate change issues. The plan was achieved through a dynamic exchange of ancestral knowledge and practices that resulted in an environmental management plan and social consensus.
It's the first time a municipality in Bolivia has a plan of this nature, which seeks to reduce impacts while ensuring greater food security for communities, especially those that rely on natural resources. Never before seen hail, harsh droughts or frost have led to declaring a state of emergency in those districts in the last few years.
"As city officials, we have seen the need to include the Adaptation Plan in our municipal charter for its compliance, not only by the municipality, but also by the departmental government and civil society," said Villamontes representative Johnny Robles, who was accompanied by five councilmen. "An ordinance was enacted in that regard in September."
National Climate Change Program Coordinator Carlos Salinas described the project as an important initiative, "which shows that the central government is not the only one who has the difficult task of dealing with the effects of climate change."
"The experience should be replicated as a guide for other municipalities," he said.
NATIVA Director Iván Arnold said the new plan to adapt to climate change is a comprehensive approach to reducing environmental impact at the municipal level, without skipping mitigation actions but rather contributing to more efficient and organized work in this area.
Attendees at the CAF Auditorium in La Paz included Argentina's Salta City Hall Representative Emiliano Venier; REDES CHACO Secretary Pablo Frere, who represents an umbrella organization of more than 50 institutions in Argentina, Bolivia and Paraguay; and Northern Amazon Commonwealth Representative Wilfredo Plaza, where a similar projected is being started.
Charagua, in the department of Santa Cruz, is another municipality that has started this process, expected to be completed by March next year.
This work, supported by funding from CAF, is part of NATIVA's Climate and Life Municipalities program, intended to be a benchmark for similar work in other municipalities. The Handbook of Climate Change Adaptation and SICCLIMA methodology can be downloaded at www.nativabolivia.org