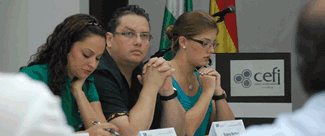 A development agenda for latin american youth
December 03, 2012
At a gathering in Santa Cruz de la Sierra, representatives of various national and international organizations presented proposals to prepare a comprehensive agenda for the youth of the region.
(Santa Cruz, Dec. 3, 2012).- At the initiative of CAF –development bank of Latin America– representatives of several national and international institutions met in Santa Cruz, Bolivia, to outline a comprehensive agenda for youth development in the region. Currently 30% of the Latin American population is between 15 and 24 years old, meaning that at least 130 million people in the region belong to this important age group.
Víctor Rico, CAF director of Institutional Development and Special Affairs, said the meeting's goal was fulfilled, as it succeeded in gathering "valuable ideas and proposals for the agenda that the bank will pursue from 2013 onwards."
Participants included representatives from the United Nations Economic Commission for Latin America and the Caribbean (ECLAC), the Catholic University of Chile Student Federation (FEUC), the Ibero-American Youth Organization (OIJ), the Ibero-American Network of Indigenous and Afro-Descendant Youth (REJINA) and the Center for Participation and Sustainable Human Development (CEPAD).
Emilio Uquillas, CAF country representative in Bolivia, said the youth are "the pillar of human development." He pointed out CAF's ability to adjust to the agenda of Latin American countries and their needs, which is reflected in the institution's openness to consider new and challenging ideas that can have an impact on society.
According to ideas and initiatives presented at the meeting, compiled by CAF consultant Eugenio Ravinet, an agenda needs to be participative in order to be successful. In addition, the agenda must be based on policies that enable the emancipation of youth and provide opportunities for young peole.
The meeting concluded that education is key to transforming the current reality. In this regard, training in entrepreneurship and innovation was deemed essential.
Participants said this is the right moment to develop a long-term agenda focused on youth, with a historical perspective based on new demands that have come with the 21st century. The youth of Latin America share problems and opportunities, regardless of cultural differences and distances, making it unnecessary to prepare country-specific plans.
The meeting also concluded that many among the Latin American youth are interested in public issues and want to be actors in their countries' democratic process. It is therefore essential to promote their participation in the development agenda, one that takes into account the reality and problems faced by young people, and proposes measures to support their specific issues.
Workshop participants said they see in CAF a guarantor for the continuity and sustainability of the future youth agenda.