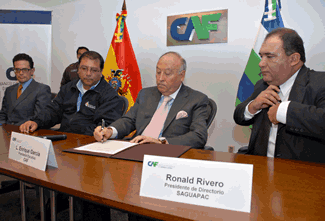 CAF approves loans to Bolivia's Saguapac and Banco Unión
December 26, 2012
Saguapac, Santa Cruz de la Sierra's public utilities cooperative, will use the funding to purchase equipment, to build a manganese removal plant and to finance the expansion of the city's sewer system.
Banco Unión will expand credit for its customers.
(La Paz, Dec. 26, 2012) - During his most recent visit to Bolivia, Enrique García, the president of CAF –development bank of Latin America–, signed two loan agreements with Cooperativa de Servicios Públicos Santa Cruz Ltda (Saguapac), a public utilities cooperative, and Banco Unión for $8 and $5 million, respectively. The funding will be used to improve services for customers of both institutions.
Saguapac has been operating the water and sewage services concession in Santa Cruz de la Sierra for more than 30 years. Demand for its services has increased significantly in recent years due to population growth and a larger area of operations.
The loan will be used by the water cooperative to increase its fixed assets, service sustainability and capital investment, as well as for the purchase of equipment and the installation of mixers, the construction of a manganese removal plant, and the expansion of the sewer system.
Banco Unión is one of the fastest growing banks in Bolivia, as well as one of the most prominent banks in terms of providing loans to the private sector.
The credit line granted by CAF to the state-owned financial institution will be used to finance its own operations and to finance its clients. The bank is planning to step up support for the private sector, expand its national coverage, increase its portfolio of loans aimed at micro and medium-sized enterprises, improve customer service, strengthen institutional equity and improve efficiency levels, among other goals.