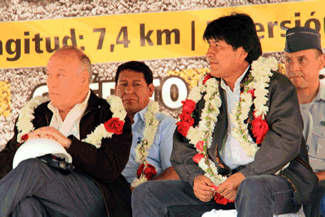 CAF signs $139mn worth of loans for road projects in Potosí, Cochabamba
December 19, 2012
CAF President Enrique García and Bolivian Planning Minister Viviana Caro sign three loan agreements.
Funds are for the construction of the Uyuni–Tupiza Highway in Potosí, as well as the Sacaba-Chiñata and Quillacollo-Suticollo two-lane roadways.
The projects will benefit tourism, production and commerce in the region.
(La Paz, Dec. 19, 2012).- In a ceremony attended by Bolivian President Evo Morales, CAF –development bank of Latin America– signed three loan agreements with Bolivia for major works in the national road network in the departments of Potosí and Cochabamba: the Uyuni-Tupiza Highway in Potosí and the Sacaba-Chinata and Quillacollo-Suticollo double lane roadways in in Cochabamba. The Bolivian Highway Administration (ABC) will execute the projects.
The contracts were signed by CAF President Enrique García and Planning Minister Viviana Caro. After the signing ceremony, García said the three road projects not only strengthen integration and communications within the country but also help boost production, tourism and commerce in two departments with huge economic potential.
He also pointed out the importance of investments in infrastructure and logistics for development in the region. "Whereas China invests 10% in infrastructure development, Latin America allocates less than 3%," he said, touting the Bolivian government's efforts.
CAF has provided critical support for the development of road infrastructure in Bolivia, both the domestic network and the cross-border network for integration with neighboring countries, which has enabled several regions to join the regional economy supply chain . Over the past 10 years, CAF has funded the construction of more than 3,700 kilometers (2,300 miles) of roads in the country.
The loan for building and paving the Uyuni-Tupiza Highway is for $108.2 million. The total cost of the 188.3-kilometer (116.8 mile) project will be $150 million, with local counterpart resources (28%) being provided by the Government of Potosí. This route will also connect Bolivia with Argentina, facilitate tourist access to Salar de Uyuni and will become an alternative route for the transportation abroad of minerals and the future production of lithium.
CAF is lending $33.6 million for the double-lane roadway construction in the Sacaba-Chinata and Quillacollo-Suticollo stretches in Cochabamba, with another $14.4 provided by a counterpart. The 20.3 kilometer (12.6 mile) project includes the upgrading of the existing pavement and construction of an additional lane in each direction along the current route. The project –with two 7.4 kilometer (4.6 mile) and 12.9 kilometer (8 mile) tranches– includes added road safety and improved traffic conditions.
The sections included in this project will also generate economic benefits, such as lower operating costs for vehicles, shorter travel times, lower accident rates and improved road safety.