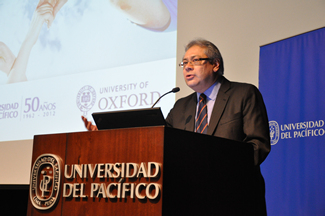 Latin American social inclusion's political economy analized
(Lima, Dec. 14, 2012). Latin America's current economic good times are an opportunity for sustainable development as well as for investment in the most underprivileged groups in the region. That was the conclusion of experts attending the conference "Social inclusion political economy in Latin America," organized by Universidad del Pacífico and Oxford University, with support from CAF –development bank of Latin America.
Peru's Development and Social Inclusion Minister Carolina Trivelli said her ministry pursued a policy of bridging gaps, which the government has reinforced by investing in households at the bottom quintile in terms of poverty and education level. Trivelli said the social inclusion process had to be Peru's economic main policy, with support from public and private sectors.
CAF Strategic Affairs director Germán Ríos said that in this decade Latin America was finally able to see the light at the end of the tunnel, with interesting growth rates. According to Ríos, Latin America still faces serious challenges as it is the region with the highest inequality rate in the world, which calls for intense action on social inclusion. In this regard, he said CAF's support for conferences and other specialized events is a clear demonstration of its partnership with the academic sector, which he said was important for analysis and spreading knowledge, but it was also fundamental for the design of public policies both for nations and for multilateral agencies that work in support of implementing these policies in the region.
Participants included CAF economists Pablo Brassiolo and Lucila Berniell; UNDP Latin America Chief Economist George Gray Molina; ECLAC Productive and Business Development Director Mario Cimoli; Oxford University Lecturers Diego Sánchez Anchorena and Timothy Power; and Universidad del Pacífico Lecturers Enrique Vásquez and Cynthia Sanborn.