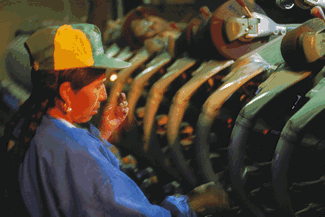 Microfinance sector strengthening to bring credit to low income population
January 09, 2013
CAF supports Bolivia's Banco Sol in implementing the Geographic Information System (GIS) with the goal of expanding its services to remote areas in the country.
(La Paz, Jan. 9, 2012).- CAF -development bank of Latin America- supported Bolivian microfinance firm Banco Sol in implementing a Geographic Information System (GIS), an innovative resource that will enable it to expand its services to remote, low income populations in order to provide them good quality financing.
GIS stems from the bank's need to optimize its service in semiurban and rural areas. It will also address issues caused by lack of standardization in customer databases on address, business or occupation.
"This georeferential information gathering will enable extending financial services to areas that are far from urban centers, where the population faces many restrictions to access financing, including a difficulty [to determine the] exact location of homes and properties, which today is an obstacle for a financial mediation process," said CAF Country Director in Bolivia Emilio Uquillas.
The effort, partially financed by CAF, plans to expand its future coverage to more areas with "geodata base," using spatial reports in order to analyze geographical concentrations according to internal (the bank's portfolio) as well as social and demographic variables for sales, marketing, promotion and attention center openings.
The "geodata base" coverage in this project includes 10 cities: Cercado, Colcapirhua, El Alto, La Paz, Montero, Quillacollo, Sacaba, Santa Cruz de la Sierra, Tiquipaya and Viacha.