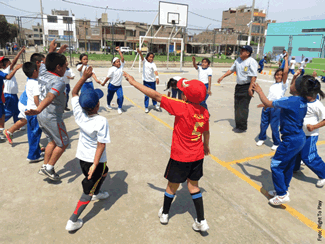 Play Day Cantolao/COPRODELI
January 02, 2013
Place: Colegio San Martín, Nuevo Pachacútec - Ventanilla / Colegio Agustín Hipona, Callao
Date: December, 2012
SOMOS, THE SPORTS NETWORK FOR DEVELOPMENT IN LATIN AMERICA, ORGANIZES "PLAY DAY" ACTIVITIES IN CALLAO SCHOOLS
On Dec. 13, Callao province schools held a "Play Day," an activity organized by the NGO Right To Play International and the Cantolao Soccer Academy as part of the 'SOMOS Sports Network for Development in Latin America' program.
"Play Day" is a flagship activity of Canadian NGO Right To Play and is an integral part of the methodology with which Cantolao Soccer Academy coaches are being trained. On this day, boys, girls and coaches employ the methodology in one of their training sessions, demonstrating all that they have been learning in these initial months of daily training and practice.
On this occasion, two Callao schools performed their sessions on Thursday, Dec. 13, with the participation of 96 students and 4 coaches from San Martín school, of the Ventanilla-Nuevo Pachacútec district, and 72 students and 5 teachers from Agustín Hipona school. "Play Day" shows the program's beneficiaries' progress, offering the opportunity to share experiences on the practice of the Right To Play methodology.
This activity is part of SOMOS, an innovative sports network which aims to promote development in Latin America with soccer as a training tool.It is an initiative of CAF -development bank of Latin America- with support from Right To Play International and its Peruvian regional office, as well as the Special Olympics.
Present at the Dec 13 Play Day were the Cantolao 'SOMOS' program national field coordinator Svetlana del Pino, general program coordinator Gerardo Shimokawa, and Right To Play program officials Giugliana Romero and Gisella Duarte.