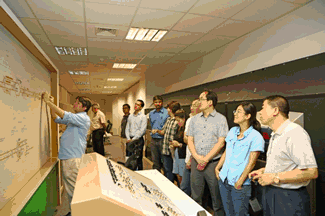 Asian Development Bank and CAF study sustainable urban transport projects in Brazil
February 05, 2013
The purpose is to use successful experiences in Latin America as a model for projects in Asian cities.
(Rio de Janeiro, February 5, 2013). CAF -development bank of Latin America- and the Asian Development Bank (ADB) have been collaborating on diverse initiatives in the areas of transport, competitive cities and corporate governance, as well as sharing experiences and best practices in their respective regions.
As part of their successful cooperation framework, ADB, along with CAF's support, carried out a study of sustainable transport initiatives on the Brazilian cities of Rio de Janeiro and Curitiba, aimed at replicating Brazil's BRT system (Bus Rapid Transit) in different Asian cities.
Curitiba was the first city in the world to implement a BRT system. Later, Rio de Janeiro followed it putting in place a BRT system, which was integrated with other transport networks, including city trains, the metro and the cycling path's network. For more than a decade, CAF has been supporting the development of urban transport systems in different cities within the region. The financing of the metro and urban train system in Caracas, the Transmilenio in Bogota, the urban transit system in Guayaquil, the electric train in Lima, and the metro in Panama City, are some of the projects supported by CAF. In the same direction, ADB has participated in public urban transit financing, including the BRT in Lanzhou, one of the most polluted cities in China.
BRT projects are becoming more relevant globally, especially in Latin America and Asia, consequently, CAF and ADB are supporting and implementing sustainable transport initiatives in several cities in both regions.
The transport development initiative between CAF and ADB seeks to strengthen the alliance between both institutions in order to share successful experiences in their areas of influence and develop an online platform, making available case studies and other relevant information to planners, public policy makers and to public in general. CAF and ABD, along with other multilateral development banks, have committed over $175 billion in financing to sustainable transport in developing countries in the next 10 years.