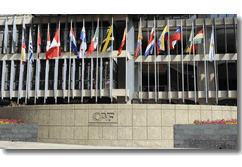 Japanese Agency Upgrades CAF's Credit Rating to AA
February 01, 2013
The decision by Japan Credit Rating (JCR) comes on the heels of similar rating upgrades by Moody's (Aa3) and Standard & Poor´s (AA-)
(Tokyo, February 1, 2013). Japan Credit Rating (JCR) upgraded the credit rating of CAF -development bank of Latin America-- from "AA-" a "AA", thus providing another endorsement of the multilateral financial institution's solid track record and financial management.
CAF president Enrique Garcia noted that "this rating upgrade constitutes an important recognition of the exceptional financial management of the bank and will result in lower funding costs for Latin America and the Caribbean."
CAF is one of the principal sources of multilateral lending in the region, having approved more than US$50 billion in financing to support economic development and Latin American integration over the past five years.
The JCR's decision was based on the commitment of CAF's shareholders, which is expressed through the punctual payment of their obligations to the bank and their repeated approvals of capital increases. In addition, the Japanese agency underlined the significant expansion of CAF's shareholder base and the prudence of the bank's financial management.
CAF's funding strategy has been based on the diversification and expansion of its sources of funding, as well as the reduction of costs in the international financial markets, having successfully completed 100 bond issues to date on competitive terms. "The purpose of these international placements is to channel investments into Latin America and the Caribbean, thus supporting our mission of promoting sustainable development and regional integration," concluded CAF president Enrique Garcia."