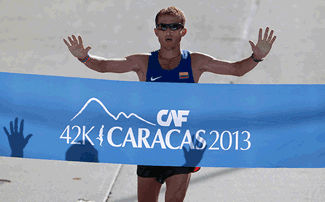 Third CAF Marathon turns Caracas into the running capital of Latin America
February 25, 2013
More than 8,100 athletes filled the Caracas streets with energy and emotion.
Colombia's Cardona brothers finished first and third, with Venezuelan Oswaldo Belandria was runner up.
On the women's side, Colombian Ruby Milena Riativa took top honors, followed by Mexican Yuliana Navarro Rosales and Venezuelan Jeniffer Rodríguez.
(Caracas, Feb. 24, 2013). Caracas residents cheered the more than 8,100 participants in the 2013
CAF Caracas Marathon for Latin American Integration
, encouraging them as they ran through the streets of the Venezuelan capital Sunday morning.
Colombian Juan Carlos Cardona was the first to cross the finish line, clocking a time of 2:18:23. He was followed by Venezuelan Oswaldo Belandria, who completed the marathon in 2:21:01, with the winner's brother, José David Cardona, finishing third at 2:22:08.
In the women's competition, Colombian Ruby Milena Riativa took top honors, crossing the finish line in 2:48:34; Mexican Yuliana Navarro was runner up at 2:51:12, and Venezuelan Jeniffer Rodríguez finished third, completing the race in 2:55:12.
"Every year there are more runners who join this initiative that seeks to promote integration, solidarity, dedication and a spirit of achievement, as values for development of Latin American society," said CAF President Enrique García at a joint press conference with Venezuelan Sports Minister Héctor Rodríguez; Venezuelan Athletics Federation Secretary General Marcos Oviedo; and CAF Executive Vice President and CAF Marathon Organizing Committee Chairman Luis Enrique Berrizbeitia.
Mr. Rodríguez urged race supporters to work "not only for the continuation of this competition, but also to turn it into one of the most prestigious marathon races in the world."
CAF Caracas Marathon's third edition attracted a record of more than 8,100 athletes. Over 5,800 of them ran the half marathon, while the rest took part in the full, 26.2 mile marathon, with half the participants in both categories being first time runners. "Participation from more than 30 countries and the presence of Colombians, Venezuelans, Peruvians, Mexicans and Bolivians among the winners is clear proof of the Latin American integration demonstrated by this event," Mr. García said.
"Unrestricted support from institutional partners such as the Sports Ministry, the Interior and Justice Ministry, the Venezuelan Athletics Federation and Baruta, Caracas, Chacao and Sucre municipalities made this experience possible, rewarding the city with a colorful and safe day," Mr. García added, also acknowledging Movistar, Empresas Polar and Banco Mercantil's support as corporate sponsors.
For his part, Mr. Oviedo highlighted the marathon's consolidation, saying, "It has grown thanks to excellence in the organization, which is the sum of many institutions and commercial partners." Today, "athletes were the main actors, we saw an excellent participation by the Cardona brothers, the Venezuelans and representatives from every other participating nation," he added. "We are very proud and hopeful that this consolidation and momentum will lead us to 12,000 participants in the nextyear's competition."
Marathon winner Juan Carlos Cardona said he was "happy to be here in Venezuela and very happy to have been able to win this important event." Caracas, he said, "deserved a world class marathon and now," he said, addressing Caracans, "feel proud, because you've truly got it; I've had the opportunity to be in very important events in other countries and this marathon is their match, and that's why I congratulate the organizers."
A safe and inclusive environment
The event's safety was guaranteed by the joint efforts of the Interior and Defense ministries, national and military police forces, traffic and transportation police, as well as the police forces of the Baruta, Caracas, Chacao, Sucre and Miranda municipalities. Firefighters and civilian defense also joined in the security measures, patrolling the streets since dawn on Feb. 24. More than 2,500 agents were present along the marathon course.
The race has gained in importance since the initial competition in 2011, when 3,500 runners participated, the number grew to 5,800 runners in the 2012 edition and this year's total was more than 8,100. This shows that the CAF Caracas Marathon has become a benchmark for national and international competitions.
Both the full and half marathon have been certified by the International Association of Athletics Federations (IAAF) and the Association of International Marathons and Distance Races (AIMS).
In addition, the IAAF has designated the CAF Caracas Marathon a qualifier for the World Athletics Championships in Moscow in August and the Bolivarian Games in Trujillo in November, whereas the Venezuelan Athletics Federation also named it Venezuela's National Marathon Championship.
Music for Caracas
Caracas residents took to the streets early to cheer runners, who had at their disposal 29 water stations along the marathon course, with 20 provided by Empresas Polar and the rest by Gatorade.
Additionally, there were 27 entertainment sites organized by CAF officials, as well as the companies and institutions sponsoring the event, including Gatorade, Movistar, Quaker, Oakley, Borocanfor, Fundación KPMG, Invedin, and students from Academia Washington, Emil Friedman and Cristo Rey de Altamira schools.