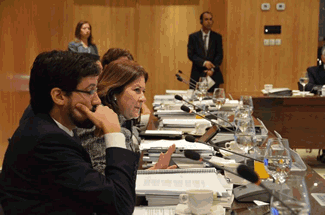 CAF approves US$630 million for road program, drainage infrastructure in Brazil
March 05, 2013
The multilateral bank announced today the approval of US$300 million for Minas Gerais' Road Program; US$204 million for River Baquirivu-Guaçu Macro Drainage System; and US$127.5 million for the Amazonas Road Program.
CAF has approved US$8.386 billion for Brazil in the last five years.
(Caracas, March 5, 2013).- CAF -development bank of Latin America- announced the approval of US$631.5 million for programs supporting Brazil's development agenda.
The first, US$300 million operation is for Minas Gerais' Road Program; the second, US$204 million one is for Río Baquirivu-Guaçu's Macro Drainage System Program; and a third, US$127.5 million loan will be allocated to the Amazonas Road Program.
Minas Gerais' Road Program's goal is to increase highways' transportation capacity in view of their integration role, facilitating residents' access to social service and business centers, and reducing transportation's logistic costs, which limit a state's growth potential.
"Infrastructure investment is a key factor for development and integration in a region, and hence it's a priority in the comprehensive development model that CAF promotes for Latin America," said CAF President Enrique García.
Minas Gerais state's initiative includes paving, improving, widening and building roads connecting the economic and industrial areas within the state. The program CAF will finance is the first part of the Caminos de Minas initiative, a priority in the state's development master plans. Financing will be used for 16 road stretches, for a total of 402 kilometers. They will connect 23 municipalities within the state, directly benefiting 1.5 million people.
Another US$127.5 million was approved for the Amazonas Road Program to support economic and social development in the state through building, rehabilitating and improving roads that will contribute to comprehensive solutions to traffic and urban mobility problems in the city of Manaus.
"Due to large scale economic development in Manaus, Amazonas state capital, the city's population has grown substantially, reaching to 1.8 million today. In this regard, CAF has been supporting road and urban development in the city through various financing programs, such as Manaus Urban and Environmental Infrastructure Programs (US$75 million); Tourism Development (US$21 million); and Igarapés de Manaus Social Environmental Program (US$52.5 million)," García added.
Resources for São Paulo state residents
The third loan approved today for Brazil is for building and expanding drainage and flooding control systems in River Baquirivu-Guaçu's basin. This will help improve the quality of life for the population in the area, carry out environmental and social recovery, and reduce flooding exposure in some of São Paulo state's strategic infrastructure.
Specifically, the project contemplates the construction of 20 kilometer open air canals along River Baquirivu-Guaçu; the river's water volumes control; reduced flooding risk for the population along the river's embankment as well preventing irregular settlements there; building an ecological park and generating cultural, tourism, educational and sports options for the population in the area. In addition, the project includes environmental recovery in the intervention area with river flora regeneration.
"The program is part of the investments carried out by the national government in order to improve Brazilians' quality of life through road network development, as well as water supply and treatment systems," García said.
Between 2008 and 2012, CAF has approved a total of US$8.386 billion for Brazil, mainly employed for roads and logistics; tourism and sports infrastructure; environment and natural emergency attention.