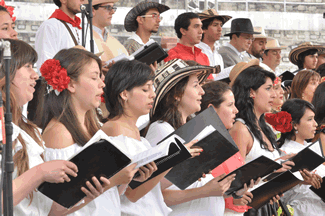 CAF brings venezuelan maestros to America Cantat 7
March 26, 2013
Venezuelan maestros participate in the workshops taking place in the framework of this festival, contributing to the musical training and education of Colombian children and youths. The participants in choral training are Margot Pares Reyna and María Guinand. In the orchestral area, the participants are Valmore Nieves, Santiago Garmendia, Francisco Díaz, Juan Carlos Maldonado and Omar Ascanio
(Bogota, March 26th, 2013).- The America Cantat Festival is an itinerant international choral event which for eight consecutive days brings together world renowned directors, choirs, and choristers in Bogota.
In addition to the daily presentations, the event carries out a series of choral workshops and a symphonic-choral concert for which CAF, Development Bank of Latin America, has contributed with the organization of a pedagogical space for theFormación de Formadores(Training of Trainers) which contributes to the comprehensiveness of the I District PlanBogota Canta(Bogota Sings), where in addition to living the music, it is studied, worked, and practiced, also offering training to choir directors and choral groups in the different areas of Bogota, focusing on technical and theoretical aspects while working on the preparation of the mentioned concert.
The philosophy of the América Cantat 7 is one that promotes tolerance and peace by means of intercultural events, thus contributing to the development of choral music, both in quality and dissemination, as well as in its different styles and themes.
During the ten years that this program has been carried out, CAF, through its "Music to Grow" initiative, has contributed to the musical training and education that offers tools for low income children and youths to substitute idleness with discipline and dedication, provide them with a reference group which is different to the environment in which they live in the poor neighborhoods or slums, and allow them to transform their values and aspire to a correct and adequate professional life.
This time, CAF participated by bringing experts from Venezuela to Bogota, as is the case of Margot Pares Reyna and María Guinand, choral teachers, and Valmore Nieves, Santiago Garmendia, Francisco Díaz, Juan Carlos Maldonado and Omar Ascanio for the symphonic area. These maestros will work with children and youths that will be a part of the orchestra and of the different choirs that will participate in the different concerts that will take place in this festival.
America Cantat contributes to the development of professional and friendly relationships that facilitate the personal and artistic growth of the participants. This festival is also a tool for the choral and musical development of the country in which it take place, and an opportunity for cultural growth in the participating regions and cities.