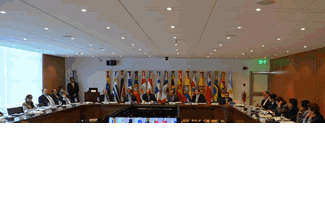 Drinking water for Buenos Aires
March 05, 2013
CAF approves US$120.5 million for Argentina's Drinking Water Basic Works Program. The project will benefit approximately 850,000 people in the city's southwest.
(Caracas, March 5, 2013).- Greater Buenos Aires, where one-third of Argentina's population lives, faces a growing demand of services due to demographic growth and migration to the metro area, creating the need to enlarge the installed capacity for drinking water, drainage, sewer, and wastewater treatment systems. The Planning Ministry seeks to address this need through the 2012 - 2015 Drinking Water Basic Works Program, executed by waterworks company Agua y Saneamientos Argentinos (AySA), for which CAF -development bank of Latin America- approved US$120.5 million today.
CAF President Enrique García highlighted the importance of urban centers as development engines for Latin America, highlighting the institution's contribution. "CAF's action in favor of Latin American cities is based on a comprehensive agenda to promote the development of coordinated investment programs that take into account social, economic, productive and cultural aspects."
According to García, "countries have made substantial progress in the water and water treatment sector in the last decade, but what's needed is a comprehensive vision that incorporates hydrological resource management, urban development, the environment's protection and climate change."
The program's goal -whose total cost is US$496 million- is to improve drinking water access, quality and supply in Buenos Aires metro area's southwest municipalities, benefiting around 850,000 residents.
Specifically, the goal is to increase drinking water production capacity and distribution infrastructure in Greater Buenos Aires' southwest; guarantee the drinking water supply's comprehensive capacity, as well as the service's future expansion conditions; improve drinking water services quality and continuity in the area covered by the program; increase drinking water system's operational efficiency through demand management programs and non-revenue water's reduction; and improve social, environmental and sanitary conditions for residents in these municipalities.
The program includes increased capacity treatment at the Bernal's Treatment Plant, with a current capacity of 1.90 million m3/a day to 2.25 million m3/a day; building South Underground River's first stretch (13 kilometers, or 8 miles, out of 22 kilometers), building and installing an elevator station and additional works to connect the tunnel to the existing distribution network.