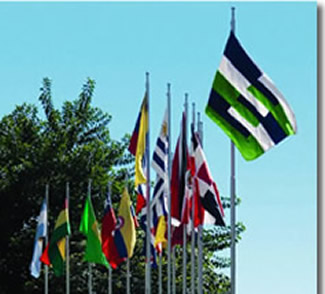 Fitch upgrades CAF's credit rating to AA-
March 11, 2013
The announcement confirms CAF's standing as the highest rated Latin American frequent issuer.
(Caracas, March 11, 2013).- U.S. credit agency Fitch Ratings upgraded the long term debt rating of CAF -development bank of Latin America- to AA- from A+, in recognition of the institution's financial health and stability. Fitch also raised the multilateral bank's short term debt to F1+ from F1.
CAF's President, Enrique García, said the move "represents renewed support of CAF's financial management." García said the announcement made by Fitch in New York "places the institution in the AA category by the most prestigious international rating agencies, which results in better financing conditions for Latin America and the Caribbean."
Fitch's decision is based on CAF's substantial broadening of its shareholder base in recent years and sustained capital increases approved by shareholder nations.
CAF has actively participated in the main capital markets as part of a very select issuers group. This has reflected its catalytic role in attracting funding to Latin America from a diverse pool of investors elsewhere in order to promote investments and economic growth in the region's countries.
Between 1993 and 2012, CAF made approximately US$17 billion in international bond placements, which translates into more investments in Latin American development projects. "The institution's consistent presence in different capital markets enabled it to issue over US$2.8 billion in 2012," García concluded.