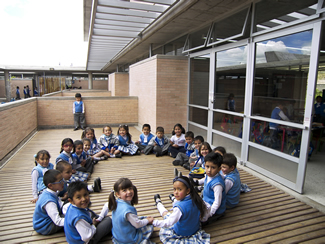 Results for development institute and CAF agree on joint cooperation for projects in Latin America
March 21, 2013
The objective is to promote Latin American sustainable development through actions in the areas of human and social development, climate change, sustainable infrastructure, and management of knowledge.
(Washington, March of 2013).- CAF, Development Bank of Latin America, and the Results for Development Institute (R4D) signed a Memorandum of Understanding that shows the shared vision of both institutions, to join efforts in favor of sustainable development in the countries of Latin America.
Enrique García, CAF's Executive President, and David de Ferranti, President of R4D, subscribed the agreement.
During the signature of the agreement, Enrique Garcia pointed out that "The signed Memorandum establishes that the potential areas of cooperation will be human development initiatives to be implemented by CAF in its member countries; joint activities in the area of sustainable infrastructure; exchange of experiences; policies and programs; generation, development, and execution of ideas and potential solutions for social problems, and exchange of knowledge to benefit other experiences".
CAF plays an active role in the generation of links and joint strategies with other regions through agreements with the main financial and development institutions in the world, allowing it to attract new resources and investment and trade opportunities for Latin America, as well as promoting the generation of knowledge in favor of the region.
Results for Development Institute (R4D) is a non-profit organization whose mission is to offer solutions to the development problems that prevent people in low and medium income countries from achieving their potential.