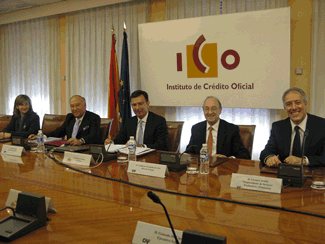 CAF approves credit for ICO to finance Spanish and Latin American companies
April 10, 2013
The goal of the US$300 million credit is to promote the development of business links between Spain and Latin America, as well as encourage companies' internationalization.
It will be possible to use the funds for financing operations and/or guarantees demanded from companies in international tenders.
(Apr. 10, 2013.) CAF -development bank of Latin America- and the Instituto de Créd ito Oficial (ICO) signed an agreement today for a US$300 million credit for use in financing and guarantees at Spanish and Latin American companies.
The operation's goal is to broaden support for Spanish companies that are expanding their businesses in Latin America, as well as Latin American companies that wish to increase their operations in Spain. This agreement is part of a program announced by CAF President Enrique García at the Ibero-American Summit of Heads of State and Government in Cádiz last November.
The ICO will apply the funding to direct operations as well as the Institute's mediation lines, which are formalized by the companies through Spanish financial entities.
The loans will be made for a maximum of US$20 million per company. Those qualified to apply for these loans include Spanish or Latin American companies with projects in Ibero America and CAF's operation area.
A total of US$200 million will be used for loan operations. The loans will allow Spanish and Latin American companies to finance their exports or imports, as well as undertake investment projects overseas. The short, medium and long term credit will address one of the sector's main demands as it requires long-term financing and in dollar currency, which often companies have difficulty obtaining.
The remaining US$100 million will be used for guarantees, enabling companies to take part in international tenders, as collateral required in those processes in order to propose offers or sign awarded contracts.
This instance of cooperation between ICO and CAF enlarges ICO's range of products whose goal is companies' internationalization, in a clear bet by ICO on its credit's specialization and concentration in internationalization.
This operation shows international agencies' trust in Spain's economy, as ICO is a public bank guaranteed by the Spanish state.