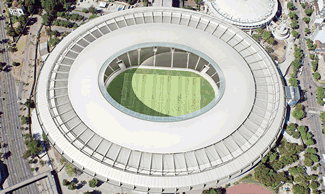 CAF Helps Build a 'Green' Maracaná to Host 2014 World Cup
April 29, 2013
Maracaná, Brazil's largest stadium and one of the biggest in the world, was reopened in Rio de Janeiro following remodeling work for the 2014 World Cup and the 2016 Olympic Games.
CAF -development bank of Latin America- contributed USD 121 million in financing for the Renovation and Upgrade Project.
(Rio de Janeiro, Apr. 29, 2013).- Rio de Janeiro's Maracaná Stadium, Brazilian soccer's temple, was reopened following comprehensive renovation work, towards which CAF -development bank of Latin America- contributed USD 121 million.
The reopening of the gates of what has been called "the jewel of the 2014 World Cup" was celebrated with a match between retired soccer stars and friends Ronaldo and Bebeto, which was attended by Brazilian President Dilma Rousseff and some 27,500 guests, including the workers who participated in the renovation project and their families. CAF was represented by a delegation led by the institution's Brazil Country Director Moira Paz Estenssoro.
"With its contribution in this type of projects, CAF promotes safe, modern and efficient spaces for sports and healthy entertainment and it fosters tourism, while it also generates new employment opportunities for the city and the country," said Paz Estenssoro.
Supporting the Maracaná reform project is part of CAF's mission in favor of Latin American cities as sources for development and improvements of quality of life.
A green stadium for the 21st century
"The new Maracaná added technological innovations, 'green' technology, which allows for rational water use as well as efficient energy consumption, factors that contribute to a sustainable vision, a priority for CAF," said Paz Estenssoro.
Indeed, the Maracaná -whose official name is Jornalista Mario Filho- was renovated under the LEED concept, the acronym forLeadership in Energy and Environmental Design for a New Construction, which marks sustainable projects.
This concept represents a voluntary international standard system, based on consensus and market criteria to develop highly efficient sustainable buildings.
Among the green elements that distinguish the new Maracaná are:
Water consumption reduction by 30 percent: The stadium has saving mechanisms (smart automatic shut off faucets) and a rainwater capture system, which will cover 50 percent of the soccer field irrigation demands.
Energy consumption reduction by 8 percent: Through an innovative LED lamp illumination system with 23,500 economic, low maintenance and long life lights, electricity loss will be reduced by using an automatic shut off system.
More than 1,500 solar panels will be set up, generating up to 245 watts each. Such energy will allow reduction of CO2 emissions to the atmosphere by 2,500 tons.
Recycling 75 percent of solid and liquid waste: The demolished area's material underwent an unprecedented recovery process.
Seats were built using recycled materials.
Infrastructure development for world events
In 2010, CAF created the USD 1 billion program in support of municipal and state governments hosting the Soccer World Cup in Brazil in 2014, with the goal of financing economic, social, basic services and environmental projects in the World Cup host cities.
The resources have been applied to urban and stadium improvement programs in Fortaleza, Rio, Manaus, São Paulo, and Minas Gerais.
CAF's support aims to contribute to the infrastructure development that Brazil needs in order to host the next world tournaments, with the economic and social benefits this kind of events generate as returns for the nation.