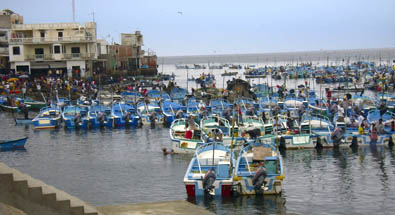 Seeking to reduce incidental turtle fishing by 70 percent
April 01, 2013
The first step to protect ecosystems and guarantee the sustenance of fishermen, is a feasibility study regarding a change of the artisan fishing fleet.
A study is being carried out regarding the technical and economic feasibility of changing the fishing line system, which will determine how to fish more efficiently, without reducing productivity, while at the same time protecting the environment, specially sea turtles which are the species most affected by unwanted fishing.
The study is carried out by the environmental organization WWF, connected to an initiative of the Ecuadorean State and the collaboration of the Federación Nacional de Cooperativas Pesqueras Artesanales del Ecuador (National Federation of Artisan Fishing Cooperatives of Ecuador) (FENACOPEP, for its acronym in Spanish), which groups 4,000 boats in the country. CAF, Development Bank of Latin America, finances the program's consultancies and studies.
The fishing line system stretches a line that may be several kilometers in length, with several type "J" hooks to catch tuna,picudos, and other fish. However, with this method there is also unwanted fishing, which is trapped and discarded while dying.
Among these types of incidental fishing are sea turtles, sword fish and, at a world level, close to four million sharks per year. WWF is encouraging the use of circular hooks to replace the "J" type, so as to reduce the incidental catching of turtles and other species by 70 percent.
Connected to this initiative, the national Government eliminated the 30 percent tariff for circular hooks. WWF trains and advises fishermen to improve the practices and replace boats and artifacts that harm unwanted species.
The results of this program may be copied in other Central and South American countries to improve the quality of life of its inhabitants and protect the marine ecosystems from which they depend economically.