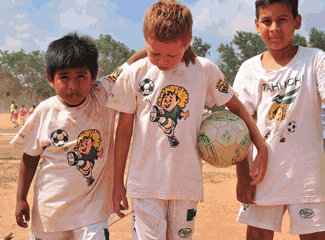 11,700 children strengthen their social skills through soccer training
May 06, 2013
From May 6th through 10th a training workshop on the Right to Play methodology took place in Santa Cruz, with the participation of the soccer schools Tahuichi from Bolivia, Colombianitos from Colombia, Cantolao from Peru, Deportivo Petare from Venezuela and Movimiento Nueva Generación from Panama. The methodology has been applied for one year to train children and youth athletes in the framework of the SOMOS program, a Sports Network for the Development of Latin America. The event's headquarter was the Academia Tahuichi Aguilera which celebrated its 35th anniversary and 10 years of uninterrupted work with CAF.
(Santa Cruz, May 8th).- In Santa Cruz de la Sierra, from May 6th through 10th, directors and coordinators of the soccer schoolsTahuichi from Bolivia,Colombianitos from Colombia,Cantolao from Peru,Deportivo Petare from Venezuela andMovimiento Nueva Generaciónfrom Panama participated in a training workshop on the Right to Play methodology. The activity was organized by CAF, Development Bank of Latin America, in alliance with the Right to Play International Foundation in the framework of its SOMOS program, Sports Network for the Development of Latin America.
Emilio Uquillas, CAF's director representative in Bolivia, stated that SOMOS, "In its first year of implementation at a regional level, reports positive advances and results supporting thousands of children athletes so that through their playing skills, they can strengthen their social skills and stay away from the calamities that constantly threaten them, such as drugs, alcohol, tobacco, and delinquency".
He added that for the Institution, sports is a social rescue and inclusion tool, and for this reason it has been continuously working with theAcademia Tahuichifor 10 years to build up quality human beings more than athletes.
In 2012, 11,700 children and 176 teachers were trained at a regional level, and the goal for the next five years is to reach 120,000 children as, starting this year, the idea is to extend the network to Ecuador, Panama, Venezuela and Uruguay.
In Bolivia, theAcademia Tahuichi Aguilera, which this year celebrates 35 years of life, with this program is training close to 3,000 children and youths in soccer, by providing training to 43 coaches.
Roly Aguilera, President of theAcademia Tahuichi Aguilerastates that "The Program has allowed us to better organize the practices, adding values and social skills within a comprehensive education seeking to create better citizens through the practice of soccer".
The objective of SOMOS is to promote social inclusion and the generation of equal competences among at-risk children and youths to support them in creating their own opportunities. Regional institutions participate in this international network, using and promoting sports as a tool for a comprehensive human development, as an effective mechanism for the prevention of social risks, and to promote a greater inclusion of the children and youths in the region.