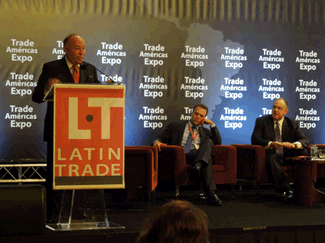 Support for Micro, Small and Medium Enterprises Is Key to Competitive Makeover of Latin America
June 21, 2013
CAF President Enrique Garcia says the region´s challenge is giving MSMEs the tools they need to grow.
Miami, June, 21 2013.- Micro, small and medium enterprises (MSMEs) in Latin America are at the heart of the region's economic transformation from a commodity-based to high-value-added, but they need to overcome barriers that limit their development, said Enrique Garcia, president CAF--Development Bank of Latin America- during his keynote speech at the Trade Americas Expo in Miami.
" Micro, small and medium enterprises account for more than 60 percent of employment and about 30 percent of GDP, but they have severe problems of access, for example, to finance and technology", said Garcia during the event, organized by the Latin Trade Media Group in Miami.
CAF´s president added that supporting MSMEs is a key element in fostering socially inclusive economic development. He emphasized the problems that MSMEs face the in terms of access to bank financing and venture capital, as well as other barriers created by suboptimal public policies in the region.
CAF, the multilateral development bank that Garcia leads, offers a number of solutions for MSMEs. "First, we promote access to financing and innovative investment," said Garcia. "We have also developed initiatives to support productive transformation and the improvement of competitiveness."
"CAF seeks to be flexible and adapts its actions to the specific conditions of each country and the necessities of each client," said Garcia.
In Latin America, MSMEs represent a diverse group of companies ranging from tiny informal ventures to larger enterprises with the capacity to export goods. They operate in different markets, all kinds of economic activities, in diverse environments, and in various competitive and regulatory conditions.
Lasting two days, the Trade Americas Expo was attended by business owners, exporters, government. Among them, Robert Manogue, director of the Office of Bilateral Trade Affairs of the United States; Fernando Lorenzo Estefan, Minister of Economy and Finance in Uruguay; and Sean Mulvaney, member of the board of directors of the Export-Import Bank of the United States.