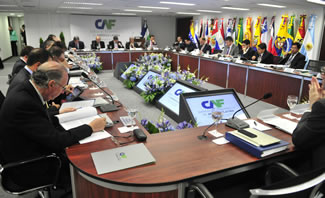 CAF Allocates USD 275 million for Environmental Sanitation Projects to Benefit More Than 3 million Ecuadorians
July 02, 2013
CAF-development bank of Latin America-approves financial resources for the Environmental Sanitation Program for Community Development (PROMADEC III). The loan, the third of its kind, brings total CAF funding for this program to USD 775 million
(Lima, July 2, 2013) -"In recent years Ecuador has made substantial progress managing and providing drinking water, sewage and solid waste management services, which have improved the quality of life for the most vulnerable segments of the country's population. With this approval, CAF support for the country in this sector now exceeds USD 775 million and will help finance projects calling for more than USD 1 billion that aim to improve quality of life, health and the environment," said Enrique García, executive president of CAF-development bank of Latin America-, upon announcing the USD 275 million PROMADEC III loan.
"CAF resources seek to support government investments that attend to the basic needs of the poorest populations of the country," said García, adding that two prior phases of the program financed 430 projects that benefitted 3.5 million Ecuadorians by supplying sanitary drinking water and basic sanitation services.
This third phase of the program will improve living and sanitation conditions for inhabitants in both rural and urban zones in Ecuador with the highest poverty rates via financing of 200 integral projects that improve drinking water, sanitation and solid waste management.
CAF seeks to promote sustainable development and regional integration by placing emphasis on social inclusion and environmental protection. With regard to water resources management, the institution adheres to four lines of action: management and protection of hydrological reserves, irrigation and agricultural development, drainage and flood control, and water and sanitation services.