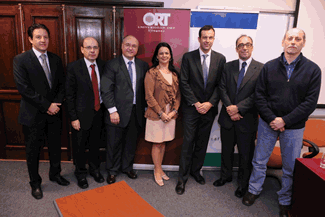 CAF and ORT Conduct Analysis of Uruguay Electricity Sector
July 29, 2013
CAF and ORT University host "The Electricity Sector in Uruguay: Today's Situation and Perspectives" Conference. The event analyzed the sector today and its prospects for the future.
Both institutions agree to hold additional conferences to analyze logistics, infrastructure, natural resources, and productivity and environmental issues.
(Montevideo, July 29, 2013).As part of an agreement between CAF-Development Bank of Latin America-, and Uruguay's ORT University, the"The Electricity Sector in Uruguay: Today's Situation and Perspectives" conference took place recently at the ORT campus. The event began with a diagnostic report on the country's electricity sector commissioned by the Vice president of Energy under the Sustainable Energy Program along with commentary from three specialists in the field. The event also included the participation of CAF authorities and executives from the sector who participated via videoconference from the multilateral lending institution's headquarters in Caracas, Venezuela. The meeting sought to assess the Uruguayan electricity sector's health today and identify prospects and opportunities to future development.
CAF's representative in Uruguay, Gladis Genua, noted that CAF began the session with analysis and debate on the country's strategic sectors in order to help identify public policies that would contribute to the broader development. She also stressed that "the decision to select the energy sector as the first topic of the debate cycle illustrates just how relevant this sector is for CAF in its involvement across Latin America." She added that in Uruguay's specific case, the electricity sector is of particular importance for CAF, as the institution "is active in all areas of the energy sector, including thermal power generation, wind and photovoltaic generation as well as in electricity transmission and distribution," all of which are important to Uruguayan energy policy.
Gastón Labadie, Dean of the Faculty of Administration and Social Sciences at ORT University, noted that "in a business school, strategic reflection forms part of strategic executive training for managers, and we understand that it is important to open a discussion of a strategic nature on the development of public policy in Uruguay with a long-term focus."
CAF Consultant Mario Vignolo, who helped draft the study, delivered a chronology of the Uruguayan electricity system since its inception in 1882, beginning with private-sector initiatives that involved into a coexistence of public and private sectors from 1912 to 1977, when a monopoly was established via the creation of the state-owned power company Usinas Térmicas del Estado. Today, the role of the government and the private sector in the energy sector are separated, thanks to new laws passed in 1997.
According to Vignolo, "in a favorable economic scenario, demand for electricity should continue growing" and to supply that demand "diversification of sources and suppliers is essential and should not depend on a few big contracts without neglecting international commerce."
"Natural gas is the path on which Uruguay embarked a long time ago, and the energy source will likely support the system in the medium and long term via new, combined-cycle plants that are either online or are under construction," said Vignolo, offering word of caution. "Bigger energy grids will see increased demand, and they must rely on new technologies, they must become smart grids that allow for the more efficient use of energy."
The first panelist to provide their perception of the document was Beno Ruchanski, professor at the Universidad de la República and former president of Usinas Térmicas del Estado, stressing that the country's energy policy, when crafted by consensus, will allow the country to implement strategies that "diminish dependency on imported oil." Similarly, Ruchanski emphasized that vertically integrated power companies have made positive impacts on the Uruguayan economy.
Afterwards, Alejandro Perroni, vice president of Acodike Supergas, praised advances made in managing energy demand by improving efficiency in the sector and by implementing dual-time electricity tariffs. Perroni stressed that institutional merit comes from "developing an explicit energy policy" within the framework of "broad-based political agreement" that brings about "a diversification of sources and origins," citing the recent construction of a re-gasification plant as an example.
Juan Jose Carrasco, executive director of the Commission for Regional Energy Integration (known as CIER in Spanish), closed the session by emphasizing that a properly functioning electrical system is essential, adding "there are resources, existing networks to distribute those resources and there must be rules and institutional aspects that govern the relationships of all the actors involved in the process." He also highlighted the need for skilled human capital.
The conference was part of an academic series on public policy organized by CAF and ORT University that aims to analyze Uruguay's economy and identify development needs. Conferences take place in June, August, September and October and will offer discussions on logistics, infrastructure, natural resources, and productivity and environmental issues.
Click here for more information from the event.