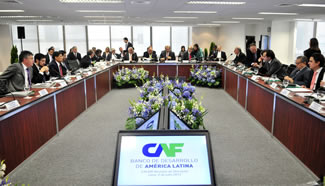 CAF Finances New Infrastructure and Energy Projects in Latin America through Abengoa
July 02, 2013
CAF approved an uncommitted revolving credit line for the Spain-based international company's infrastructure and energy projects.
(Lima, July 2, 2013).-An uncommitted revolving credit line for USD 150 million was approved today by CAF -development bank of Latin America- on behalf of Abengoa S.A. for the execution of projects in CAF shareholder nations.
Abengoa is a Spain-based international company that applies engineering and construction sustainable solutions in different sectors including energy and the environment, generating power through solar energy, producing biofuels, desalinating seawater or recycling industrial waste, among other applications.
"Since 2010, CAF has been working with Abengoa, enabling the Spanish corporation to have the necessary financing for projects that promote sustainable development in several countries in the region," said CAF President Enrique García.
In Latin America, Abengoa has operations in Brazil, Chile, Uruguay, Mexico and Peru. The facility announced today that it contributes to development in each of the countries where Abengoa carries out projects.
CAF is one of the leading multilateral financing sources for Latin America and the main one for infrastructure and energy.