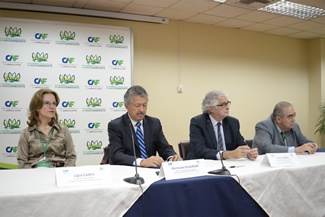 CAF Signs New Accords to Help Preserve Ecuador's Natural Resources
July 17, 2013
CAF along with, Ecuador's Environment Ministry and Produbanco signed the agreements under the CIMA Environment Summit framework.
All parties will work to preserve the Yasuni National Park via the development of green business practices.
(Guayaquil, Ecuador, July 17, 2013).-Under the framework of the CIMA International Environmental Summit held in Guayaquil recently, CAF-Development Bank of Latin America- signed two agreements that will promote technical cooperation with the aim of supporting initiatives to protect and preserve Ecuadorian ecosystems.
CAF and the Ecuadorian Environment Ministry have signed an agreement to launch a portfolio of projects to conserve the Yasuni National Park. The accord will create a team of consultants to identify and develop projects that will complement other environmental programs taking place in the Yasuni Biosphere Reserve (YBR) managed by the Ecuadorian Environment Ministry. Conservation programs will focus on strengthening organizational and community resources to improve oversight, ensure ecologically sustainable management of natural resources and develop environmentally sustainable YBR community and other programs.
Meanwhile, a second agreement signed between CAF and Produbanco entitled "The Environmental Management and Clean Investment Development Program" will provide consulting services from both organizations that will focus on two activities. A first effort will measure carbon footprints and implement mitigation plans to reduce greenhouse gas emissions to turn the financial institution into carbon-neutral entity. A second endeavor will develop green products and measure environmental liabilities while advising on loans and investments financed by the bank.
"The importance of these two agreements lies in the support created to permanently improve work environments and work processes to ensure responsible social and environmental management," said José Curbelo, Corporate Vice President for Development Strategy and Public Policy at CAF.
CAF supports shareholder countries by working to conserve and promote the sustainable use of natural resources and ecosystems while helping to develop environmental policies that adhere to long-term and sustainable criteria and principles.