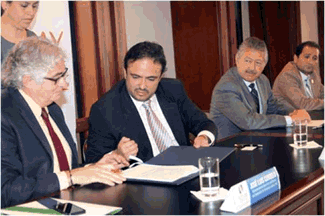 CAF Strengthens Local Ecuador Construction Sector with Technology Innovation Center
July 16, 2013
Thousands to benefit from the project, including 384 small and medium-sized businesses, 2,300 associates from local chambers of commerce, 1,370 students and 35,600 masons.
(Cuenca, Ecuador, July 16, 2013).-CAF-Development Bank of Latin America- and Ecuador's Azuay provincial government have signed an accord to create and launch an Ecosystem Innovation Program to support the region's construction industry.
The project will create a Research and Development and Innovation Center that will provide support to construction companies by improving their competitiveness at both the national and international levels.
José Curbelo, CAF Corporate Vice President for Development Strategies and Public Policy, "the project fits within CAF parameters that dictate that any and all projects must be innovative and sustainable. Thus, we seek to develop a robust cluster of entities that in turn improves the competitiveness of other industries and sectors under the strong belief that we are operating in a global environment in which we must be competitive."
Meanwhile, Azuay Regional Governor Paúl Carrasco pointed out that the "the signing constitutes an important step towards more productive and sustainable economic development for the Azuay province, the region and the country as a whole."
The project, which will run for an initial 24 months, will support regional development by operating in conjunction with broader Azuay land use planning programs.
The deal will provide training and services for more than 2,000 individuals, incorporating all into the construction sector's value chain and will also inject technology and optimization into the construction and building materials sectors, among others.
A monitoring committee of representatives from the Construction Chamber, architects, Azuay public officials and the U.N.'s ART-UNDP local development initiative will oversee the project's progress to ensure its success.
The project's launch complements other CAF initiatives for the city of Cuenca and its surroundings, including those operating under the auspices of the institution's "Local Productive Populations" endeavor, as improving productivity forms on of CAF's central tenets.