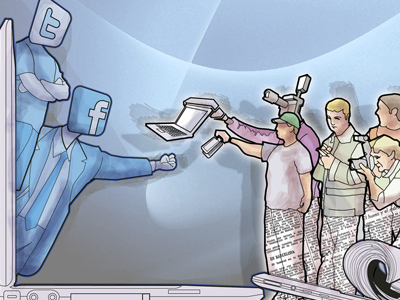 Digital journalistic entrepreneurships: a process of adaptation
July 31, 2013
The media must understand the functioning of the Internet to optimize the contents, to innovate, and to address the demand for information in constant dialogue with the audiences
To create digital projects it is important to recognize the changes taking place in the Internet, and to think in an innovative manner. In the Digital Entrepreneurship Workshop, journalists Jean-François Fogel (France) and Guillermo Culell (Argentina) explained the potentialities of journalistic projects in the web.
They pointed out that when creating projects, there are five premises for entrepreneurial journalism in a digital platform:
Think in four dimensions: social, economic, technological, and innovation.
Consider that users want to tell their stories.
Innovate to differentiate
Know the investments
Produce own contents
Fogel points out that the changes in the internet modified the trade. Today, "four paragraphs are already too much. Links and images are information". News are worth more if they are delivered quickly with what is known than if they are delivered later when they are complete. Audiences do not expect an offer of contents but a conversation.
Cullel explains that it is necessary to consider that the news should be fed by the 3C's: Content, Context, and Code for the organization of thecommunications media and its teams.
The teams must work to export contents and links in all theplatforms and social networks in the Internet, where most of the audience may be found.
For him, it is all about conjugating certain keys. The imperative of immediacy lies in producing quality quickly: assume that the news are in permanent construction. Last but not least, develop the most important ability: relate and listen to audiences.