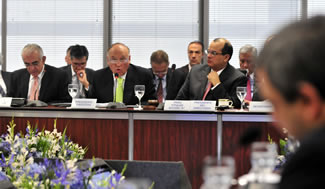 Support for an integration, logistics, and productivity route
July 02, 2013
USD 76.7 million were approved for the Padilla-El Salto highway in Chuquisaca, which will contribute to the economic and social development of the Bolivian Southeast. The highway section is part of the Diagonal Jaime Mendoza, an export corridor which connects Bolivia, Chile, Argentina, and Paraguay.
(Lima, July 2nd, 2013). CAF, Development Bank of Latin America, approved a loan for the Plurinational State of Bolivia for USD 76.7 million for the construction and pavement of the Padilla-El Salto highway, thus contributing to the economic and social development of the country's Southeastern area and, specifically, the Department of Chuquisaca.
Enrique Garcia, Executive President of the financial institution, pointed out that the work constitutes an important road integration project, as it includes numerous benefits for the Department and its inhabitants through the materialization of the Diagonal Jaime Mendoza highway, which communicates Chuquisaca with Oruro and Potosi, and will improve the communications in the area, reduce travelling times, and contribute to the improvement of the competitiveness of hundreds of associations of hot pepper and peanut producers in that region.
CAF's Executive Director points out that "the Institution supports the strategic plans of member countries to achieve their objectives regarding productive transformation, institutional development, innovative social policies, and integration and trade development even with neighboring countries".
In addition, he highlights that the Padilla-El Salto section makes connectivity feasible for the West-South corridor, a road that complements other projects of IIRSA's Central Interoceanic Axis, connecting ports in the Pacific, located in Peru and Chile, with Argentina and Paraguay.
The Padilla - El Salto section, a 449 kilometer stretch, will have a total cost of USD 109.3, of which CAF will finance 70 percent and the Government of the Department of Chuquisaca will finance the remaining 30 percent, which represent a counterpart amount of USD 32.5 million. The executing agency will be theAdministradora Boliviana de Carreteras(Bolivian Highway Administration) (ABC, for its acronym in Spanish).
CAF's financing also includes the update of the final design studies of the highway section that starts in El Salto and ends in Monteagudo, a section which will complete the pavement of the Diagonal Jaime Mendoza.