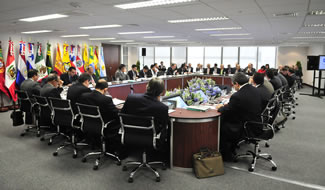 USD 300 Million to Support Industrial Sectors in Mexico
July 02, 2013
CAF announced the approval on behalf of NAFIN to support supply chains, strengthen small and medium-sized enterprises as well as finance energy projects and strategic sectors.
(Lima, July 2, 2013).-CAF -development bank of Latin America- approved today an uncommitted revolving credit line for USD 300 million on behalf of Nacional Financiera (NAFIN), a Mexican state bank with the goal of promoting the nation's economic, business and social sectors.
"Mexico's National Development Plan envisions major investments in different productive sectors of the country. In this regard, the approved credit line seeks to support different financing programs through NAFIN for supply chains and guarantees for micro, small and medium sized enterprises, in addition to corporate financing programs, energy projects and other strategic sectors," said CAF President Enrique García.
This new credit facility approved today envisions a productive relationship between NAFIN and CAF on issues such as private capital funds conversion and co-financing of energy products.
NAFIN tackles current and future challenges in competitiveness by offering financial solutions that cater to SMEs' needs as well as funding for energy projects and other strategic sectors that support the nation's growth.