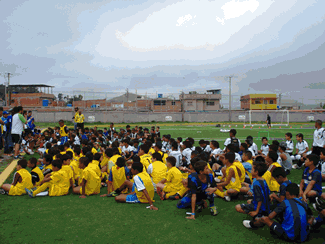 350 Children Score a Goal for Peace at La Dolorita Sports Center in Caracas
August 04, 2013
SOMOS - A Goal for Peacerecently hosted its second soccer clinic for children and young adults belonging to the Sucre Municipal Community League in Caracas, Venezuela
(Caracas, August 4, 2013) SOMOS - A Goal for Peace is working to improve the quality of life for children and young adults in the Petare neighborhood of Caracas by using soccer as tool to bring bout social inclusion, cohesion and to reduce violence.
To get kids off the streets and on the road to successful lives, SOMOS - A Goal for Peace hosted a second soccer clinic that grouped 350 children at the La Dolorita Sports Center soccer field. Kids from neighborhoods including Petare, Filas de Mariche, Palo Verde, La Bombilla and La Dolorita participated.
At the soccer clinic, Venezuela's budding soccer stars received on-the-field techniques and training from coaches, sports technicians and community leaders carefully selected by SOMOS - A Goal for Peace.
Children and coaches rotated in 24 workstations on the field in a program that focused on three levels of training: recreational soccer, soccer skills development and competitive play. The program aimed to use soccer as a tool to teach the children life's values and ethics with the aim of generating greater social development and inclusion for at-risk youth.
The equal-opportunity program objectives included conveying the merits of discipline, addressing youth violence, instilling positive reinforcement and incentives, and teaching efficient and effective group communication to be used both on and off the field.
SOMOS - A Goal for Peace boys and girls participated equally in the clinic with the aim of promoting values such as diversity, gender equality and teamwork.
SOMOS - A Goal for Peace has worked to provide a better life for 1,500 children and adolescents from Petare and surrounding communities by grouping youth in soccer squads under the guidance of the Sucre Municipal Community League. The program has developed a series of nine workshops/training modules for coaches at soccer clinics for both trainers and children.
SOMOS - A Goal for Peace is the product of a partnership between Project Peace Latin America (PPLA), the Petare Friends and Sports Foundation and the Sports Foundation for Development (FDPD). The program also operates with support from the Sports Network for Development in Latin America, an initiative spearheaded by the CAF-Development Bank of Latin America- that aims to promote social inclusion and create equality for at-risk children and young adults.