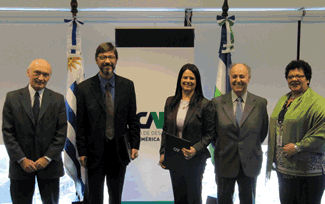 CAF and LACHE Unite to Improve Sustainable Economic Development in Latin America
August 06, 2013
CAF and LACHE sign inter-institutional accord with the aim of implementing research and job creation projects to promote sustainable economic development across Latin America
(Montevideo, August 6, 2013).CAF-Development Bank of Latin America- and the Latin American Center for a Human Economy (LACHE), a Uruguayan non-profit, have signed an inter-institutional accord designed to create research and job creation projects to promote sustainable economic development across Latin America.
"We firmly believe that LACHE's experience in promoting education and culture together with CAF support will lead to the creation of a number of value-added initiatives for Latin American countries across various fields of expertise," said Gladis Genua, CAF's Representative Director in Uruguay. "Joining forces will complement economic development efforts with those that seek to boost knowledge across the region."
LACHE Director Leopoldo Font described CAF support as "fundamental" for the organization to continue growing.
On top of increasing the scope and reach of research and job training, both institutions will work together to provide consulting services where appropriate, as well as draft and edit academic and technical publications and white papers.
Founded in 1957, LACHE relies on support from Uruguayan law, medical and cultural schools. The institution provides postgraduate training and continuing education courses in education, languages, technology, political science, integration and cultural studies.
With presence in Montevideo, Punta del Este and Tacuarembó, the Latin American Center for a Human Economy has been recognized as one of Latin America's most distinguished think tanks.