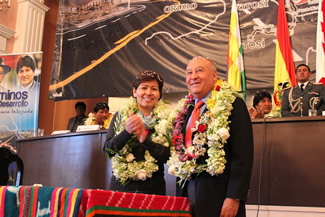 USD136 Million to Improve Bolivia's Infrastructure
August 08, 2013
CAF Executive President signs three credit agreements that will develop and improve economic infrastructure for key Bolivian productive and agricultural regions. One of the credit agreements will help finance projects outlined in the country's 2025 Patriotic Agenda
(Sucre, August 8, 2013).At a ceremony held in Chuquisaca that included the presence of the President of the Plurinational State of Bolivia, Evo Morales, CAF-Development Bank of Latin America- Executive President Enrique García signed, along with Bolivian Planning and Development Minister Viviana Caro, three loan agreements disbursing more than USD 136 million to develop highway and electricity infrastructure as well as identify and fund future projects.
At the signing ceremony, Enrique García reaffirmed the bank's commitment to Bolivia's economic development though the permanent support of initiatives that improve the quality of life of the country's inhabitants by developing infrastructure, expanding access to basic services and by providing the necessary tools to improve competitiveness and productivity "all with the aim of attaining quality development."
Road and Highway Infrastructure, Basic Services and Environmental Conservation
A first credit totaling USD 76.7 million will finance the construction and pavement of 49 kilometers of the Padilla-El Salto Highway in Bolivia's Chuquisaca Department, which forms part of the larger Diagonal Jaime Mendoza highway system that reaches the West-South corridor linking Bolivia with Argentina, Chile, Paraguay and Peru.
On top of Padilla-El Salto Highway expansion, another USD 35 million credit will help finance public works projects needed to improve economic and social development in the Santa Cruz Department. Financing will support bridge and highway construction, repairs and pavement projects as well as improve electricity access in rural areas by installing low-voltage power lines that will help improve the economy.
A third credit approved at USD 25 million will go to country's the Pre-Investment Multi-Sector Program (PROMULPRE) to identify and create a portfolio of investment opportunities to finance economic and social infrastructure development projects, improve basic services and conserve environmental resources under the framework of the country's 2025 Patriotic Agenda.
García highlighted that CAF's financing will support economic and social development in the Chuquisaca region, which harbors a great deal of agricultural and tourism potential, as well as in Santa Cruz, which must improve its infrastructure to become more economically productive.
Finally, support for PROMULPE will bolster a series of projects that, along with broader long-term economic planning, aim to reduce poverty and improve health, education, food safe and environmental management projects, among other objectives.