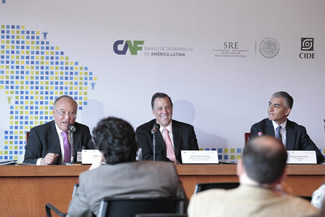 Young Latin American Leaders Discuss Regional Economic Integration
August 27, 2013
CAF, Mexico's Secretary of Foreign Affairs and CIDE hold IV Forum "The Future of Latin America, A Vision of the Young"
Latin American youth represent more than 26 percent of the region's population
(Mexico City, Aug. 27, 2013).More than 35 Latin American young adults gathered at a two-day event in Mexico City recently hosted by CAF-Development Bank of Latin America-, Mexico's Secretary of Foreign Affairs and the Center for Research and Teaching in Economics (CIDE) to discuss their individual perspectives on their region's future at the IV Forum "The future of Latin America, A Vision of the Young."
During the summit's opening, CAF Executive President Enrique García stressed that young people are the region's most important demographic group. They are the ones who face the challenge of making advances in the fight against social exclusion and poverty. That is why "today's youth, which represents 26 percent of the population, needs quality public policies to help them face a very complex world. Today's youth are the strategic players who will effectively bring about the desired and necessary developments for our region."
Mexico's Secretary of Foreign Affairs José Antonio Meade Kuribreña emphasized the changes taking place in Mexico and elsewhere in Latin America, pointing out that the leadership role that young people are called upon to play will open the doors to better opportunities across the region, to more jobs and to greater economic integration. Meade stressed that Mexico remains committed to deepening relations within Latin America and the Caribbean and added that greater cooperation will generate greater prosperity.
CIDE General Director Sergio López Ayllón praised this historic opportunity for Latin America to renew its leadership potential and stressed the importance of developing educated younger generations to better serve today's democracies and welcomed both efficient and creative solutions to support such developmental endeavors.
Throughout the forum, participants openly discussed topics as diverse as the region's political, economic and social agendas as well as challenges confronting regional integration from the perspective of science, technology, productive change and institutionalism as well as shifts in attitudes toward the war on drugs.
On that note, Alejo Ramirez, Secretary General of the Ibero-American Youth Organization (OIJ), briefly presented the findings from the first Ibero-American Survey, and one of its primary discoveries is that young adults view Latin America integration as a fundamental necessity. The survey was taken by more than 20,000 young adults aged 15 to 29 in 20 countries.
To conclude, Enrique García affirmed that young Latin Americans are fundamental to a successful completion of Latin America and the Caribbean's current turning point. He pointed out that the diversity of participants allowed for a very rich debate, one full of optimism and solidarity, two traits that characterize today's youth. García stressed that integration is not a luxury but a necessity, and underscored the need for pragmatism when it comes to both private-sector and public-sector decision making.
Through its Youth Agenda, CAF spearheads development projects targeting younger segments of the population. The multilateral lending institution runs investment programs designed to provide educational and vocational training for at-risk young adults, promotes political and democratic values as well as the youth leadership skills, creates and supports networks with different educational and occupational training institutions, supports youth networks and specialized publications and other policies and activities under the CAF Youth Observatory. All activities aim to complement other CAF youth inclusion programs.