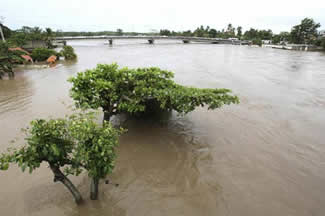 CAF Allocates Emergency Aid for Mexico Storm Victims
September 20, 2013
The Latin American development bank announces immediate disbursement of USD200,000 to support those most affected by the recent storms.
CAF also arranges a USD100 million contingent credit line for the storm-stricken country
(México, Sept. 20, 2013).-In response to the critical situation facing Mexico after recent storms battered more than 150 municipalities across the country, Enrique García, Executive President of CAF-development bank of Latin America-, announced the immediate disbursement of USD200,000 to help support victims and finance cleanup efforts.
The multilateral lending institution also opened up a contingent line of credit of up to USD100 million to help finance first-aid and other medical needs of storm victims, emergency response efforts needed to restore critical services and longer-term reconstruction projects needed to repair damaged infrastructure.
"We express our unity with the government and all those in Mexico who have been affected by the weather events taking place in the country over the last few days," García said in a letter sent to Luis Videgaray, Secretary of Finance and Public Credit of the United States of Mexico.
García added that "the federal government's swift, dependable and determined response in coordination with state and local governments has provided prompt attention to the immediate needs to those most affected."
The credit line was designed by CAF as means to provide prompt support to shareholder countries given the growing number of natural disasters in Latin America and the Caribbean, many of which have produced severe social, environmental and economic consequences in several countries across the region.