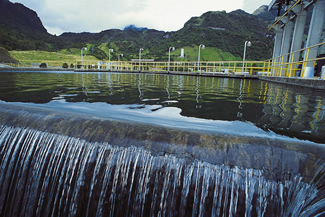 CAF approves loan for USD 94.8 million for the San José hydroelectric plant
September 24, 2013
The project will contribute to increase Bolivia's electric energy reserves and guarantee the stability and reliability of the national electric system.
The hydroelectric plant is part of thePlan Óptimo de Expansión del Sistema Interconectado Nacional (SIN) (Optimal Plan for the Expansion of the National Interconnected System) 2011-2021, and will be added to the production of the existing Corani - Santa Isabel system.
(Caracas, September 24, 2013). CAF, Development Bank of Latin America, approved a loan for USD 94.8 million to finance the installation and functioning of the San José hydroelectric plant in the Department of Cochabamba, to ensure a normal supply of electricity to the national territory
Enrique Garcia, CAF's Executive President, pointed out that "energy is a key factor for the development and competitiveness of countries", adding that the entry into operations of this new hydroelectric plant "is a contribution to improve the quality of the production logistics platform, while at the same time, it impacts on the wellbeing of urban and rural populations in the country, and mitigates energy rationing".
The project aims to generate 123.5 additional MW for the National Interconnected System (SIN, for its acronym in Spanish) through two hydroelectric plants (San José I and San José II), of 54.9 MW and 68.6 MW, respectively. The total cost of the project will reach USD 244.83 million, and it is expected it will be operational in 2016. CAF's loan represents 38.7 percent of the total cost, and the rest will be financed with resources from the Plurinational State of Bolivia.
San Jose will contribute to increase the electric energy reserves, as required by the best practices, and will guarantee the stability and reliability of the national system; in addition, it will help save 7.8 billion cubic feet of gas, due to the reduction in the use of thermoelectric generators. This gas will be exported, generating more than USD 52 million per year, an estimate which considers the prices registered in 2011.
At the same time, the work will enable the diversification of the Bolivian energy matrix, increasing the renewable energy projects, and will expand the electricity coverage at a national level through the increase of the SIN's available power.
San Jose will represent approximately 9 percent of the country's current generation capacity, ad 25 percent of the hydrological generation capacity, making the future Corani-Santa Isabel-San José complex the largest in Bolivia, as it would contribute a volume of energy of close to 20 percent of the current generation capacity.