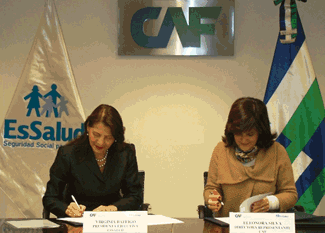 CAF supports EsSalud in the definition of a corporate governance model
September 24, 2013
CAF's program for the Diagnostics and Implementation of Corporate Governance Best Practices seeks to support state-owned companies in their commitment to achieve high management standards.
(Lima, September 24, 2013). Eleonora Silva, CAF's Director Representative in Peru, and Virginia Baffigo, Executive President of the Seguro Social de Salud (EsSalud) (Health Social Insurance), signed an agreement with the objective of defining a governance model for the entity, as well as to establish a set of principles and practices that are more adequate in terms of Corporate Governance that will help support said model within the organization which, in this case, will result in benefits for ten million insured individuals.
Silva stated that CAF, within its continuous mission to promote sustainable development in its shareholder countries, supports this initiative in line with the program started in the country in 2004, which aims to promote the entry into operations of Corporate Governance Best Practices in private and state-owned companies.
She noted that "the purpose of implementing these corporate governance best practices is to improve efficiency and transparency in EsSalud, as an institution that provides health services, and ensure compliance of its main function, that is, ensure the wellbeing of its affiliates and timely access to the health services. This initiative is essential for CAF, as it is the first time that a Corporate Governance intervention is implemented in the region in this type of entity. This will allow for the generation of a model that may be reproduced in other social security institutions."
At the same time, she noted that CAF offers tools to improve entrepreneurial practices and arise interest in the creation of a true culture of efficiency, equity, and transparency in the management of state-owned properties. For this reason, in a first stage, the multilateral entity promoted the implementation of corporate governance best practices in companies of the private sector, and now, the second phase of the program is being executed, with the challenge of promoting the implementation of these practices also in companies of the public sector.
CAF's Director Representative in Peru stated that "to date, there are eight public sector companies in the country that are participating in the program, and the advances achieved in this mater are notorious. We expect that this type of intervention will encourage other entities, thus generating a culture of entrepreneurial best practices at a national and regional level".
At the same time, the head of EsSalud, assured that for the institution it is a privilege to be the first Latin American social insurance company that requests CAF help in the design of these policies.
In that line, she explained that in view of the agreement subscribed, CAF will provide technical assistance to EsSalud for the development and implementation of the Corporate Government Best Practices, addressing management through efficiency, transparency, accountability, and responsibility criteria regarding the acquired commitments".
Baffigo noted that "we find that CAF is a first line ally and we consider that with this technical assistance we will be able to fulfill this great goal of improving the quality of management, which will of course benefit our ten million insured individuals".
http://www.youtube.com/watch?v=m9vqk6y0zB0