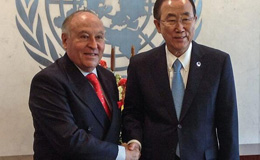 Enrique García and Ban Ki-moon Meet under Framework of United Nations General Assembly
September 23, 2013
"We are impressed by CAF's contribution to sustainable development in Latin America," said Ban Ki-moon.
CAF Participates as an Observer at the 68th United Nations General Assembly.
(New York, Sept. 23, 2013)-As a welcome to CAF-development bank of Latin America- to the United Nations General Assembly and with the aim of strengthening institutional cooperation, the institution's Executive President Enrique García met with United Nations Secretary-General Ban Ki-moon as part of the inauguration of the U.N.'s 68th General Assembly in New York.
During the meeting, Ban Ki-moon welcomed CAF as a U.N. observer and stressed the institution's importance as a regional development leader. "We are impressed by CAF's contribution to sustainable development in Latin America, and we are pleased with the work we share ahead." He also expressed his interest in consolidating and deepening cooperation between both institutions.
Enrique García said that CAF's participation in the United Nations General Assembly reaffirms the institution's willingness to play an increasingly relevant role promoting Latin American development and involvement in international affairs. "I have expressed to the Secretary General that CAF is a regional player with a global vision, and that he can count on our full support to move forward on key issues of the international agenda, such as development financing and climate change."
The general debate of this year's session will run under the theme "The Post-2015 Development Agenda: Setting the Stage." Member states are expected to offer input on the overall framework that must be used to achieve and then replace the U.N.'s Millennium Development Goals. In this respect, Latin America faces the challenge of consolidating and deepening its progress in a less favorable economic environment. To move forward with past achievements made with macroeconomic stability and social inclusion, the region now faces a more complex agenda and must make more definable progress towards bringing about sustainable development, which requires ambitious goals such as providing quality secondary and university education, productive employment, universal health coverage and investment in science and technology, among others.
"There are a number of structural issues that must be resolved in Latin America for the region to ensure that the success it has achieved in recent years remains sustainable over time," said García.
The General Assembly is the deliberating, policymaking and representative body of the United Nations. Observers are invited to participate and have a voice in sessions. Notably, more than 80 international organizations qualify as observers, including multilateral financial institutions such as the World Bank, the Inter-American Development Bank and Asian Development Bank.