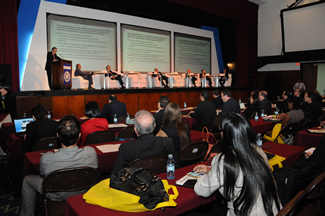 Investment in logistics and infrastructure is key for the region's development and integration
September 23, 2013
CAF's Vice-President of Infrastructure highlighted the opportunities provided by the expansion of the Panama Canal to logistic development. The growth of trade and the increase in the size of ships are a challenge for the ports of the region.
CAF is the main multilateral source of infrastructure in the region.
(Panama,September 23, 2013). As part of the activities of the XXIII Ibero-American Summit, CAF, Development Bank of Latin America, jointly with the SEGIB, organized the Ibero-American Forum of Logistics and Ports, held today in Panama City.
CAF's Vice-President for Infrastructure, Antonio Juan Sosa, was a speaker in the session Los puertos iberoamericanos en las nuevas rutas de transporte marítimo (Ibero-American ports in the new maritime transportation routes), where he pointed out that "Panama is a central axis in the development of the region regarding logistics and port movements, so it is essential to increase the competitiveness of these infrastructures so they can allow the country to respond to the needs that will come up in the short term with projects such as the expansion of the Canal and the development of new logistic areas".
Sosa referred to the increasing trends of trade and international maritime transportation, as well as to the change in the direction of the trade flows, where countries in Asia (especially China) have a greater participation as destination of Latin American exports. He also highlighted the increase in the dimensions of ships, which poses a serious challenge for the ports of the Latin American region.
Ports in Latin America will not only have to adjust their infrastructure, but also develop the regulatory frameworks that ensure efficiency and mechanisms to facilitate trade (customs, procedures, legal security).
The Vice-President of Infrastructure pointed out that beyond efficiently carrying out the movement of cargo, ports are becoming key nodes in the chain of global supply. Good active products will allow Latin American countries to take advantage of opportunities, prompting the development of value added activities that generate employment, foreign currency, and knowledge.
Sosa added that, in this regard, "investment in infrastructure is one of the key factors and, therefore, one of the priorities in the comprehensive development model that CAF promotes for Latin America".
Locally, CAF supports competitiveness in Panama's logistic hub, financing projects such as the Expansion of the Canal, Line 1 of the Metro system, training of maritime arbitrators, and construction of highways. At the same time, it contributes to the social and human development with projects such as Saneamiento de la bahía (Bay Sanitation), the maintenance of the hydrographic basins, mangrove swamps, and the reduction of carbon emissions coming from ships that cross the Panama Canal.
Currently, CAF is the main source of multilateral infrastructure funding in the region. In the past year, it allocated 50 percent of its approvals to financing economic and integration infrastructure, 30 percent for social and environmental development, and 20% to the development of productive sectors.