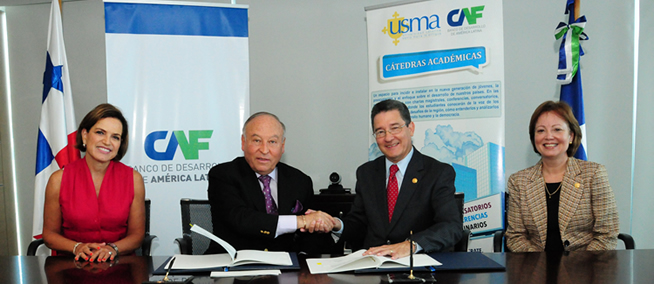 CAF and USMA sign educational cooperation agreement
October 16, 2013
In order to develop joint efforts to promote training, study, and applied research, to benefit sustainable development and integration in the region, CAF, Development Bank of Latin America, and the Universidad Santa Maria la Antigua (USMA), signed a cooperation agreement which includes the creation of the CAF-USMA academic program.
(Panama, October 16, 2013). CAF's relationship with the USMA has been consolidating since the implementation of the Leadership Program for Transformation, in 2012.
This initiative will take advantage of the presence of high authorities of the multilateral organization in Panama, so that they can offer master lectures and talks to students, teachers, graduates, and collaborators of the USMA, to be televised by FETV Channel 5 for a greater impact, reaching youths in all the provinces of Panama, including areas where access is difficult.
During the signature of the agreement, Enrique Garcia, CAF's Executive President, expressed that "under the premise that quality education is one of the most effective instruments to develop human capital and competitiveness, CAF emphasizes the establishment of programs, agreements, and projects that focus on strengthening higher technical education by improving the offer, quality, and pertinence, so that it responds to the new demands of the productive sector in accordance with the technical changes and globalization".
Carlos Voloj, head of the educational institution, stated that "USMA's mission is the promotion of a comprehensive culture with the capacity to train and transform individuals with profound ethical, moral, and democratic values. For this reason, it pleases us to have created synergies with a multilateral organization such as CAF".