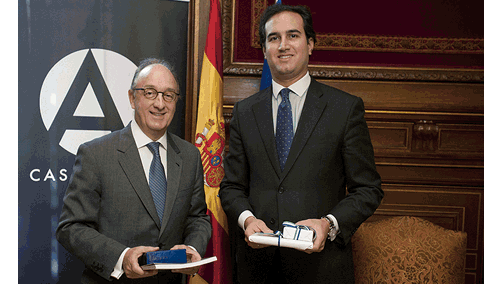 CAF-development bank of Latin America- joins Casa de América Board of Trustees
October 11, 2013
Guillermo Fernández de Soto, CAF's director for Europe, and Tomás Poveda, Casa de América's general director, signed an accord under which CAF joins the organization that works to strengthen ties on both sides of the Atlantic.
Madrid, Oct. 11, 2013.- CAF-development bank of Latin America-has joined the Board of Trustees at Casa de América, an organization of roughly a dozen entities that works to develop and strengthen cultural, social, political and economic ties between Spain and the Americas, Latin America in particular. The King of Spain serves as the organization's honorary president.
Guillermo Fernández de Soto, CAF's director for Europe, andTomás Poveda, general director at Casa de América, signed the accord under which the development bank will join other member institutions that work to strengthen ties linking both sides of the Atlantic, effective immediately.
Fernandez de Soto noted that CAF is "a strategic development partner for its member countries, which include Spain. Casa de América is an institution that plays a fundamental role in strengthening relationships between the two regions. CAF shares these objectives and values, which build bridges between Spain and Latin America. Therefore, we consider it to be very valuable to be become part of the Board of Trustees of such an honorable institution."
Poveda, meanwhile, described CAF's coming on board as "an important step towards consolidating the institution's economic activities. Also, CAF is the first Latin American entity that joins this group of trustees, and we are working to ensure that more Latin American companies see greater presence in the Board of Trustees." Proveda added that "CAF and Casa de América share the same objective of strengthening economic ties between Latin America and Spain."